Sony A9 III Mirrorless Camera Body
The newly released Sony A9 III Mirrorless Camera Body takes full-frame E-mount cameras to the edge with the world's first Global shutter, 120fps burst with full AF, zero blackout, flash sync at any speed and more.
Pre-order today for first UK stock. Available for delivery from Jan.
£6,099.00
Finance available See options
We Love
High-speed camera with the world's first full-frame global shutter, which produces zero lag and up to 120fps blackout-free bursts
Ultra fast sensor readout provides shutter speeds of up to 1/80,000 with flash sync available at any and all speeds
Shoot incredibly fast bursts and utilise pre-capture mode in order to seize every moment, even before you release the shutter
Capture oversampled 4K 60p video and 4K 120p without crop, and harness professional 10-bit 4:2:2 All-I
Updated ergonomics provide intuitive and fully customisable shooting, with class leading EVF and LCD Sony A9 III Mirrorless Camera Body Summary
Released to coincide with the 10 year anniversary of Sony Alpha full-frame cameras, the third generation Sony A9 III Mirrorless Camera Body takes full-frame E-mount cameras to the edge of imaging possibilities. The all-new Sony mirrorless camera body combines speed with image quality, and the world's first full-frame camera with a global shutter image sensor.
This high-speed sensor allows you to capture 120fps with zero blackout with full AE/AF, and shoot at speeds of up to 1/80,000 second, whilst syncing with a Sony flashgun at any speed. When every split second matters, the A9 III delivers perfectly through pre-capture mode, realtime subject recognition and impressive 95.6% AF coverage with 759 phase-detection AF points, which are now adjustable.
The body design has also been updated by Sony with improved ergonomics, which includes a dedicated speed boost button and C5 button, new multi-angle LCD monitor and 9.44 million-dot EVF.
Professional creators need to record video and the A9 mark III offers professional quality 4K/60p video from 6K oversampling, 4K/120p without cropping for the first time in an Alpha body, plus 10-bit 4:2:2 All-I with S-Log and S-Log 3 colour profiles.
Key Sony A9 III Camera Features
World's first full-frame stacked 24.6 MP Exmor RS™ global shutter image sensor
Zero image distortion and rolling shutter
120fps blackout free shooting (up to 192 frames with full AE/AF) and a new Speed Boost mode
Pre-capture mode 0.005s - 1 second
Realtime subject recognition
Maximum 1/80,000 shutter speed with zero flicker
Flash sync at any and all shutter speeds
759 point phase-detection with 95.6% coverage and -5EV AF
Adjustable AF point sizes
8-stop in-body stabilisation
4K/60p video from 6K oversampling
4K/120p without cropping
10-bit 4:2:2 All-I, S-Cinetone and S-Log 3 colour profiles
New ergonomic body design with C5 and speed boost button
Multi-angle LCD monitor with wide colour gamut
9.44 million-dot EVF (0.9x magnification) 120fps at highest display quality
New vertical grip with same ergonomics and speed boost button and C5 button mimicking camera
Grip provides parallel power from extra battery for up to 15% improved battery life
Magnesium alloy body, which is comprehensively weather sealed
Read our A9 III Review
Learn more about impressive A9 III features which can transform your photography in our latest review. Read our camera Review
Sony A9 III Mirrorless Camera Body in More Detail
World's first stacked full-frame global shutter (24.6 MP Exmor RS™) image sensor
The a9 III incorporates Sony's cutting-edge full-frame global shutter image sensor, boasting around 24.6 million effective pixels, a stacked CMOS design with built-in memory for exceptional resolution and speed.
It excels at capturing fast-moving subjects without distortion, thanks to the sensor's stacked structure and advanced A/D conversion for minimal processing delays. Coupled with the advanced BIONZ XR™ processing engine, the a9 III achieves incredibly fast continuous shooting at up to 120 frames per second, keeping subjects in focus through robust AI, precise phase-detect AF, and wide subject recognition.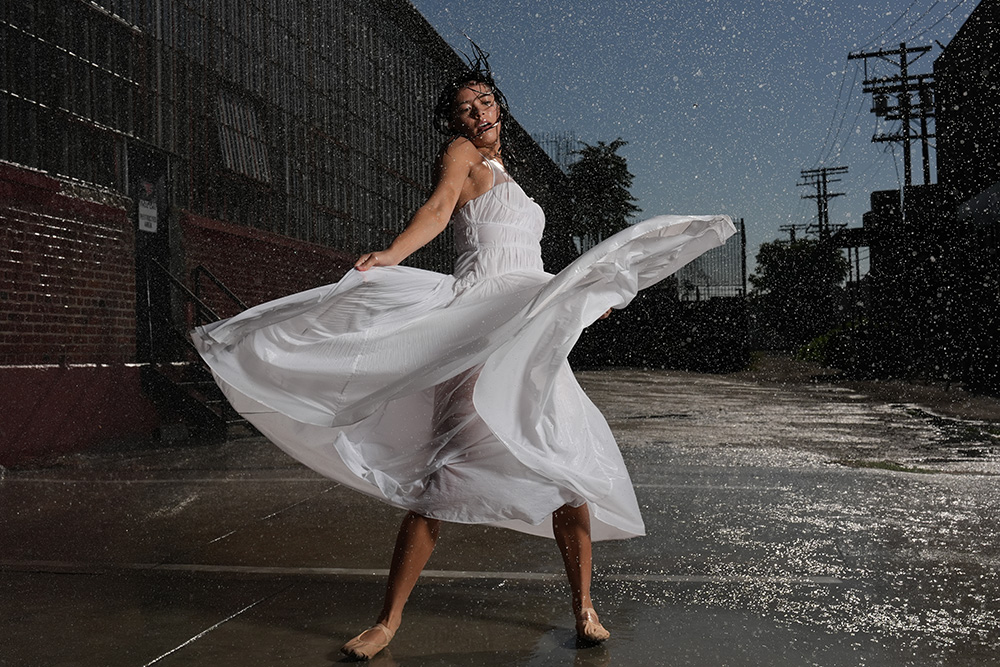 Sample image with FE 24-70mm F2.8 GM II @41mm. Camera settings: 1/16000 sec. f/9. ISO 80
Up to 120fps continuous shooting with Speed Boost
Continuous Shooting Speed Boost allows you to temporarily increase the shooting speed during burst shooting, elevating the frame rate to 120 fps. This feature is particularly effective when capturing sports and other high-speed events, where you can anticipate the timing of the desired action.
Up to 120 AF/AE tracking calculations per second
The high-speed readout of the new image sensor empowers the α9 III to perform up to 120 AF/AE tracking calculations per second, doubling the capability of its predecessor. The AF excels at tracking intricate subject movements and anticipates sudden shifts with unparalleled accuracy. Simultaneously, AE effortlessly adapts to abrupt changes in brightness. Notably, the Alpha 9 III maintains tracking even during continuous shooting, further enhancing precision for photographers who capture highs-speed action.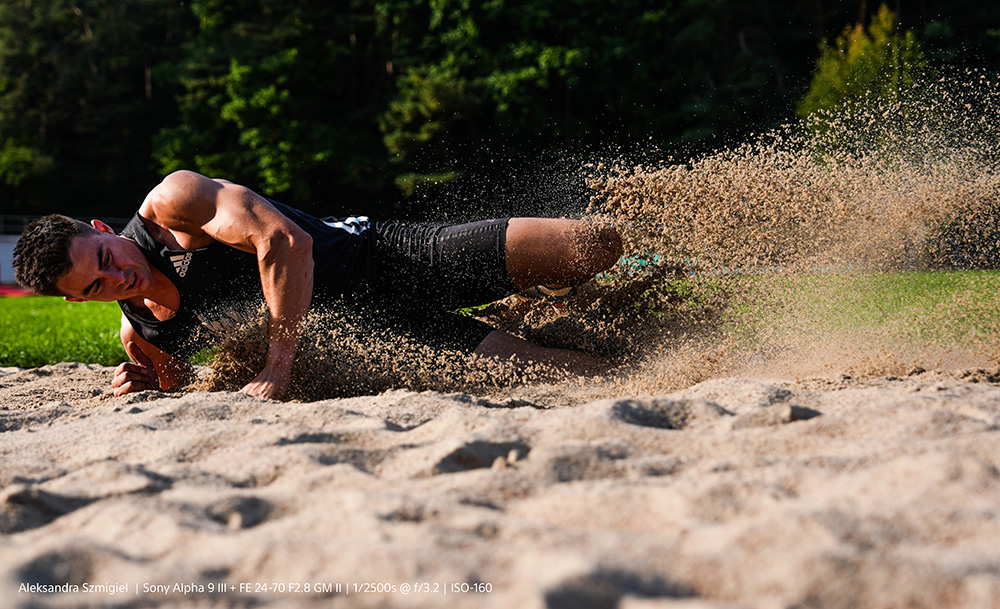 © Aleksandra Szmigiel Sample image with Sony FE 400mm F/2.8 GM OSS Lens and 1.4x Teleconverter @560mm. Camera settings: 1/3200 sec. f/4.5. ISO 640
1/80000 second shutter speed
Seize every moment of high-speed action at sporting events and beyond. The global shutter sensor enables an astonishing maximum shutter speed of 1/80000 second for still images. This capability extends to capturing even the split-second departure of a bullet from the barrel of a rifle at shooting competitions, exemplifying the A9 III's extraordinary speed and precision.
Flash sync at any and all shutter speeds
With a compatible Sony flashgun such as the HVL-F60RM2 or HVL-F46RM, the Alpha 9 III can perform full flash synchronisation all the way up to the maximum 1/80000 second shutter speed.
This ground-breaking feature enables the use of flash to provide additional subject illumination when shooting outdoors in bright daylight with a high shutter speed. It minimises the reliance on extensive lighting setups, significantly broadening creative shooting opportunities.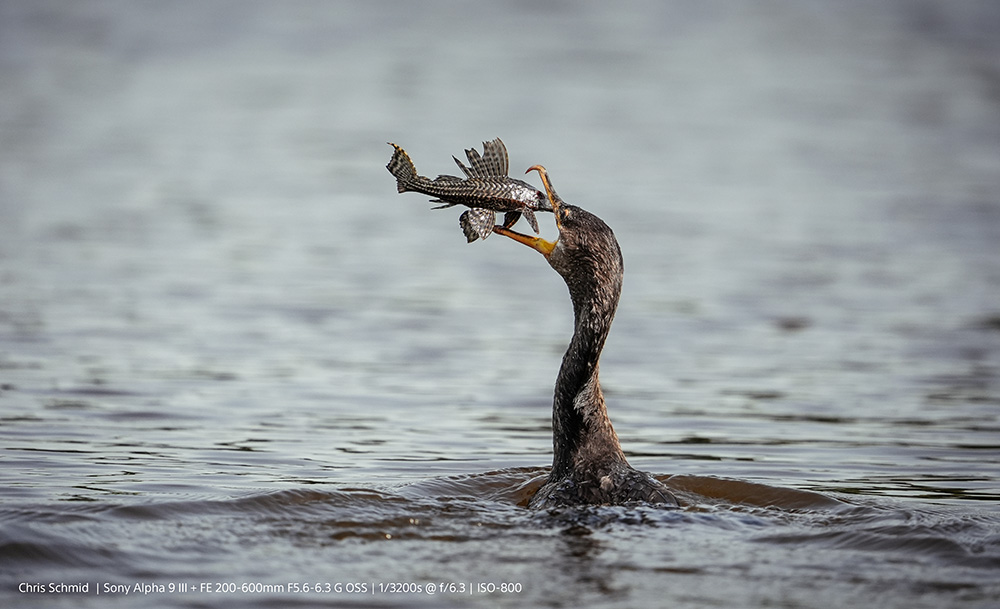 © Chris Shmid Sample image with Sony FE 400mm F/2.8 GM OSS Lens and 1.4x Teleconverter @560mm. Camera settings: 1/3200 sec. f/4.5. ISO 640
BIONZ XR image processing engine
Inherited from the flagship Alpha 1, the BIONZ XR image processing engine delivers up to 8x more processing power than previous generation processors, significantly reduces processing latency while substantially enhancing image processing capabilities.
This results in images with rich colour gradation, lifelike colour reproduction, and minimal noise. The engine efficiently handles the extensive data produced by the newly developed Exmor RS image sensor in real-time, even during continuous shooting at speeds of up to 120 fps. Furthermore, it can capture high-quality 14-bit RAW images across all still shooting modes.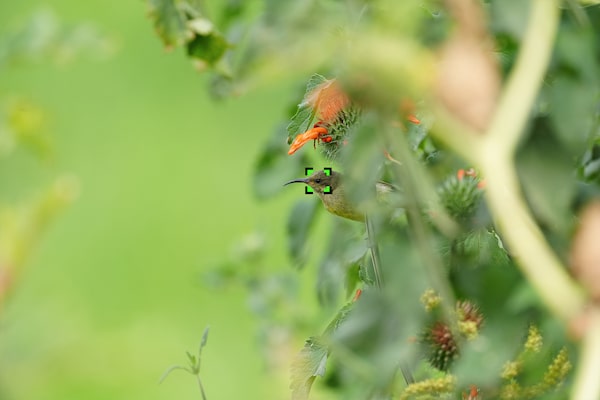 Wide coverage fast and precise autofocus tracking
The Sony a9 III mirrorless camera is equipped with a Fast Hybrid AF system, merging the speed and tracking accuracy of phase-detection AF, with the fine precision of contrast-detection AF. This combination ensures dependable subject acquisition and tracking, even for subjects with quick and erratic movement. The camera boasts an impressive 759 phase-detection points distributed across a high-density focal plane phase-detection AF system, covering nearly 95.6% of the image area.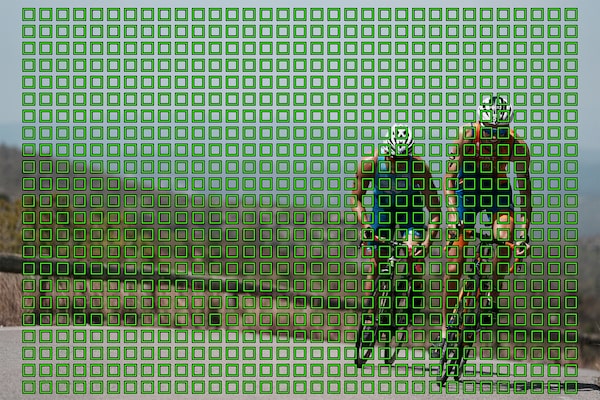 Reliable subject recognition of more subjects
The A9's AI processing unit offers enhanced subject recognition, spanning Human, Animal, Bird, Insect, Car/Train, and Airplanes. Within the Car/Train category, it can even identify helmets, such as those worn by formula race car drivers.
Animal recognition now extends to the eyes of grazing and small animals, in addition to recognising the eyes, heads, and bodies of dogs, cats, and similarly featured animals.
Bird recognition has also seen improvements, making it easier to pinpoint the eyes of various bird species and recognise their bodies. Furthermore, a new Animal/Bird setting streamlines the process, eliminating the need to switch between two settings when capturing images of animals or birds.
Human pose estimation using skeleton-based model
Leveraging its innovative AI processing unit, which was first seen in the A7R V and has subsequently rolled out to cameras like the A7C II and A7CR, the a9 III harnesses subject form data to achieve precise movement recognition. The technology extends beyond merely recognising eyes to accurately identifying body and head positions.
This means the camera can effectively lock onto and track a subject facing away from the lens or one with their face obscured. Even a distant human subject occupying a relatively small portion of the frame (even smaller than in previous Real-time Recognition AF iterations) can be identified, provided they are in proximity to the focus area when the shutter is half-pressed during continuous AF shooting. This capability enhances focus acquisition, particularly when capturing an athlete approaching from a distance, as seen in track-and-field or ski events, for instance.
Composite RAW Shooting to reduce noise
Composite RAW Shooting enables the capture of multiple images (4, 8, 16, or 32, selectable), which can be subsequently merged using Sony's Imaging Edge Desktop™ computer application software. This process produces full-resolution images with minimal noise, even at higher ISO settings, making it perfect for high-speed wildlife photography and low-light portraits. Moreover, when shooting at lower sensitivity levels, the α9 III can utilise handheld camera shake to create images with reduced false colour and jagged artefacts through Composite RAW processing.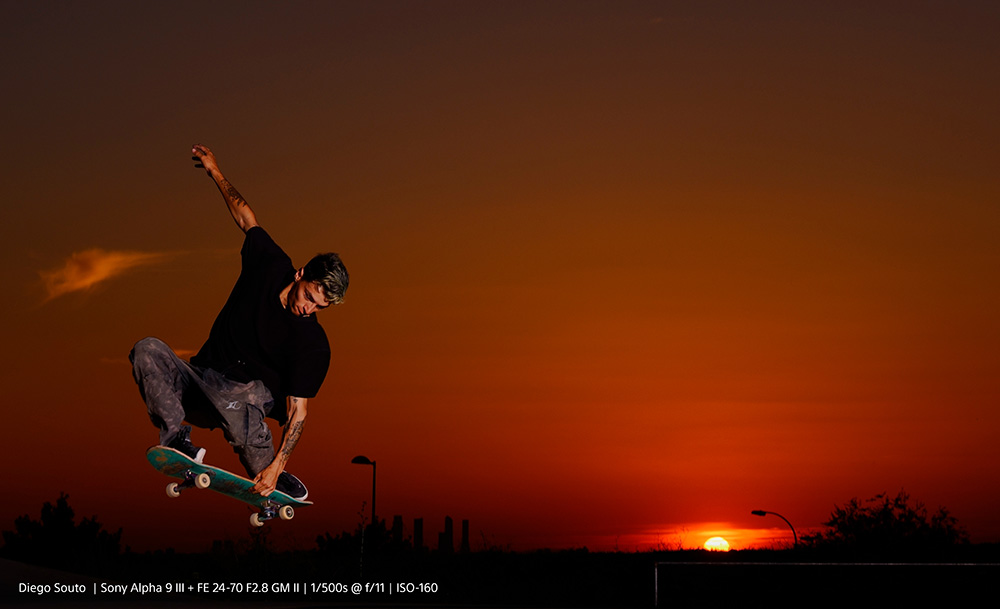 ©Diego-Souto Sample image with Sony FE 400mm F/2.8 GM OSS Lens and 1.4x Teleconverter @560mm. Camera settings: 1/3200 sec. f/4.5. ISO 640
Completely distortion-free movie recording
The newly designed full-frame global-shutter sensor, featuring stacked CMOS architecture, brings substantial advantages to both movie production and stills photography. With the absence of rolling shutter distortion, it becomes possible to capture natural-looking footage, regardless of the subject or camera movement. This holds true even when filming from a fast-moving vehicle or executing swift camera pans..
4K 120p without cropping for the first time in an Alpha body
A noteworthy first in Sony's Alpha lineup, the a9 III introduces 4K (3840 x 2160) 120p movie recording without cropping. This enables creators to maximise the full angle of view provided by any Sony Alpha lens. For instance, whether shooting 4K footage in slow motion at 120p or standard speed at 24p within the same scene, the angle of view remains consistent. This allows for seamless editing without the need for reframing and cemnets the A9 III as an advanced hybrid filmmaking tool.
Cinematic S-Cinetone™ colour profile
Sony's S-Cinetone picture profile inherits colour science responsible for delivering stunning colours and natural skin tones found in the advanced Cinema Line range. S-Cinetone yields authentic mid-tones crucial for lifelike skin tones, along with gentle hues and accurate highlights. This empowers creators to focus on their shooting, effortlessly achieving a cinematic look, without the necessity for extensive colour grading in post.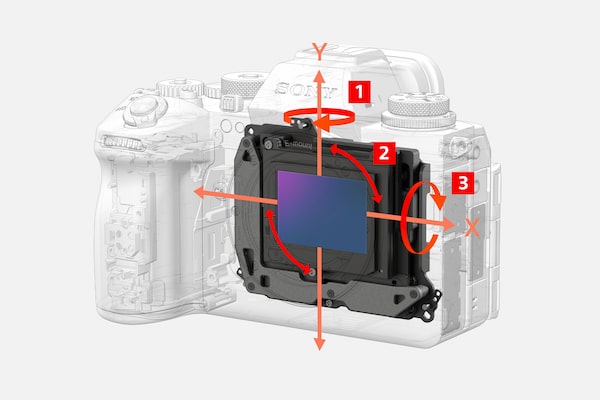 5-axis optical image stabilisation for 8-stops compensation
Capture handheld shots with confidence thanks to the third-generation Sony a9 III's high-precision image stabilisation unit, advanced gyro sensors, and refined stabilisation algorithms. This system adeptly identifies and rectifies camera shake, delivering an impressive 8.0-stop stabilisation when handholding.
When combined with lenses featuring built-in image stabilisation and enhanced communication between the camera body and lenses, you gain effective control for capturing sharp, blur-free shots, even at extended telephoto focal lengths.
Dynamic active Mode stabilisation
The camera incorporates a high-precision stabilisation unit and gyro sensors, complemented by fine-tuned image stabilisation algorithms. This synergy enables advanced electronic stabilisation to collaborate with the camera's 5-axis optical in-body image stabilisation system. Additionally, the Dynamic Active Mode significantly enhances stabilisation, surpassing the existing Active Mode by more than 30% (approximately).
Updated ergonomics and enhanced usability
Drive Mode and Focus Mode dials
The camera features stacked drive mode and focus mode dials, which can be operated independently for swift access and selection. Users can easily choose between single or continuous drive mode and single or continuous AF focus mode without the need to navigate menus using buttons. Both dials are lockable, preventing inadvertent mode changes during use. Additionally, a new functionality allows the drive mode dial to be deactivated and reassigned to the FN menu or a custom button, which proves valuable for shooting in low-light conditions or when using a rain cover that might obscure the dial.
Upgraded viewfinder
The upgraded OLED viewfinder boasts an impressive 9.44 million-dot (approx.) resolution, featuring a 0.90x19 magnification and a 41° field of view for a clear, expansive sight. It incorporates an updated structure with a 25 mm high eye-point, delivering an immersive viewing experience with minimised aberrations around the viewfinder image.
Notably, both viewfinder and monitor lag times have been minimised to enhance framing stability, especially during continuous shooting. Users can choose from three finder frame rate settings: Standard (60 fps), High (120 fps), or Higher (240 fps). The 240 fps option provides an exceptionally smooth viewfinder image, reducing motion blur significantly when capturing moving subjects and during panning or tilting.
Greater flexibility from a new front custom button
In an enhancement to signature Sony Alpha design, the a9 III introduces a custom button on the front, optimising accessibility while you maintain a firm grip. This added feature enhances adaptability to various shooting styles and requirements. For instance, users can assign functions like Continuous Speed Shooting Boost to the front button, enabling instant speed enhancement when capturing bursts.
Ergonomic grip design enhances usability and reduces fatigue
The Sony A9 III incorporates a redesigned grip that enhances grip stability and minimises physical fatigue, particularly when using heavy telephoto lenses or shooting for extended durations. The ergonomically refined contour ensures the grip comfortably fits the user's hand, providing a secure hold that reduces fatigue.
Legendary 4-axis LCD mechanism
First seen in the A7R V, the A9 III features a 4-axis multi-angle LCD monitor. This innovative design combines the convenience of a traditional tilting monitor with the versatility of a side-opening vari-angle screen, enabling unrestricted angle adjustments whether shooting in portrait or landscape orientation. The slim, durable mechanism allows the monitor to extend away from the camera body and tilt upward by up to 98°, downward by up to 40°, and swivel sideways by up to 180°. This 3.2-inch touch-sensitive LCD monitor, optimised for outdoor shooting, offers a high-resolution display with 2.1 million dots, a wide colour gamut, and ample brightness for clear and effortless viewing.
Rugged durability for field use
The camera excels in dust and moisture resistance due to meticulous design enhancements. These include the integration of silicone rubber packing around buttons, a lens-lock button, and cushioning around the lens mount, among other areas. Additionally, an improved EVF design effectively seals the viewfinder's optical path, offering protection comparable to a double glass structure. When paired with dust and moisture-resistant lenses, flash units, and the optional VG-C5 Vertical Grip, the α9 III forms the heart of a robust, weather-resistant system.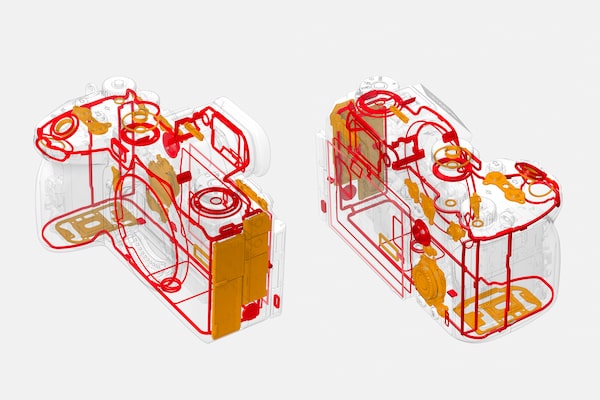 Robust magnesium alloy made for professional users
With lightweight, high-rigidity magnesium alloy for its top cover, front cover, internal frame, and rear cover, the A9 III boasts high durability, high shock resistance and effective heat dissipation. The camera is built to withstand challenging professional environments, while remaining relatively compact and lightweight at just 702 g (with battery and memory card).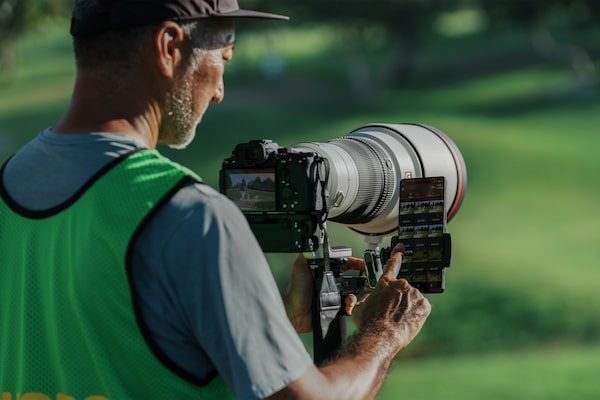 Dual CFexpress Type A memory card slots
As well as UHS-I and UHS-II SD cards, the Sony A9 III's media slots support Type A CFexpress cards. These are ideally suited to high-speed continuous still shooting at up to 120 fps and provide high write speeds to quickly clear the buffers of cameras that generate high volumes of still image and movie data.
The Alpha 9 mark III also allows stills and movies to be recorded to memory media in numerous ways, including saving data to different media slots according to file type, image size, and image quality, and a relay record mode, all helping to streamline workflow.
CFexpress Type A card options include a card for every budget:
Built-in Wi-Fi for FTP and smartphone transfers plus PC Remote tethering
The α9 III is equipped with built-in Wi-Fi (IEEE 802.11ac) featuring 2x2 MIMO support, facilitating high-speed data transfer. This enables the camera to transmit data at twice the speed of its predecessor. The use of 5 GHz communication provides optimal speed and stability, particularly vital for news and sports photographers requiring rapid FTP-based delivery and for studio settings where efficiency is key.
Comprehensive lens selection
As well as the camera body, Sony launched the Sony FE 300mm f/2.8 GM OSS Lens, completing the range of professional telephoto lenses for Alpha cameras. This new model joins a huge range of Sony mirrorless lenses with a number of wide aperture professional primes, workhorse telephoto zooms and specialist options for every endeavour. If you can imagine it, you can definitely capture it with an E-mount lens.
What's in the box
Sony A9 Mark III full-frame camera body
Rechargeable Battery NP-FZ100
Battery Charger BC-QZ1
Power cord,Cable Protector
Shoulder strap
Body cap
Accessory shoe cap
Eyepiece cup
Thinking of choosing finance?
Finance is a great way to spread the cost of your purchase. To make it easy we've teamed up with Deko whose technology lets you apply for and complete a loan application quickly, easily and informatively.
Deko is a credit broker, not a lender. Deko's secure technology helps put you in touch with lenders whose finance options are best suited for you and your purchase.
Simply add the items you love to your basket. Once you are at the checkout select the finance option that suits you and choose Deko. The quick application form is simple and should take no more than a couple of minutes to complete and you will receive a decision instantly. Easy!
Use our finance calculator to check the impact of various loan values, terms and interest rates on the total amount you need to pay and the monthly repayments.
Check your eligibility
You will only be considered for finance if you:
Are at least 18 years old
You have a gross annual income each year of more than £5,000
Are a permanent UK resident and have lived in the UK for at least 3 years
Have a UK bank account capable of accepting Direct Debits
You are not currently bankrupt, subject to an Individual Voluntary Agreement (IVA), or have any County Court Judgments (CCJs)
Provide an email address so your documentation can be emailed to you.

Please note that, due to calculations, your monthly repayment may differ very slightly from what you were expecting. Please check your monthly repayment figure before proceeding
Missed or late payments will result in fees and additional interest on your loan and can also affect your credit file and your ability to obtain credit in the future.
Credit is subject to status, UK only, 18+
Park Cameras Limited is a credit broker, not a lender and is authorised and regulated by the Financial Conduct Authority (FRN 720279). We do not charge you for credit broking services. We will introduce you exclusively to finance products provided by Duologi.
The Deko platform is provided by Pay4Later Ltd, t/a Deko which acts as a credit broker, not a lender and does not charge you for credit broking services. Pay4Later Limited is registered in England and Wales (company number 06447333) and is authorised and regulated by the Financial Conduct Authority (register number 728646). For more information please go to www.dekopay.com/support or visit www.dekopay.com.
Find out more about paying with finance here and Deko terms here
Our Verdict
Whether you shoot sports, action, wildlife, portraits and weddings, or any subject where image quality and speed are essential, the high-speed Sony A9 III is set to change your perception of what's possible.
Sony is the world's largest manufacturer of sensors so it should come as no surprise that they have managed to create the world's first full-frame global image shutter, which introduces flicker-free and distortion-free shooting at incredible speeds. The global shutter means that you can capture staggering speeds at 120fps, capture indoor lighting, and shoot movies with ZERO shutter lag or flicker, as the sensor is reading all of the pixels simultaneously.
24.6 megapixel stills are available at 120fps without any blackout and you can control AF to a greater degree than ever through customisable AF points. Flash sync has also been updated so that you can shoot high speed sync at any and all speeds up to the maximum 1/80,000 second, in order to truly freeze the action.
For moviemaking the Sony A9 III delivers pro-quality 4K 60p, which is oversampled from 6K and you can record using the full sensor at 4K/120p without cropping. S-Log profiles gather lots of dynamic range, with 10-bit 4:2:2 All-I available where quality is required above all else.
The body has been updated over the previous generation with improved ergonomics, new C5 button and a new high-speed button for 120fps bursting. The EVF and LCD are both improved, with better refresh rates, higher magnification and a fully articulating LCD taken from the high-resolution Sony A7R V.
This A9 mark III camera is significantly more than an incremental update and marks a new era in speed and image quality for the professional photographic community.
Existing Customer Login
If you are already a member, fill in the details below to login & view your account.
New Customer Signup
Create an account with Park Cameras
Register
Condition guide
Our used products are subject to wear and tear in comparison to brand new products. This also applies to accessories that are supplied with the camera including batteries which may have a lower optimum performance level/life expectancy.
Like New – The equipment is in a condition as if you have just bought it from the manufacturer. The item is still considered to be 'Like New' even without the original packaging and accessories. The product has been fully tested and is in perfect working order. Lenses are optically clear. There may be light dust present that will not effect the imagery.
Excellent – The equipment should be close to being 'Like New' but there may be some small cosmetic blemishes that lower its grade. The product has been fully tested and is in perfect excellent order.

Cameras – Should have no marks on the LCD screen
Lenses – Should have no marks on the elements and optically clear. There may be light dust present that will not effect the imagery.

Very Good – The equipment may have some slight cosmetic wear to the paintwork and cosmetic blemishes with only light signs of use and the product has been fully tested and is in great working order.

Cameras – The LCD screen may have small signs of wear that does not affect its display
Lenses – The mount of the lens will start to show signs of wear

Good – The equipment is showing more obvious signs of cosmetic wear and blemishes, but the product has been fully tested and is in great working order.

Cameras – LCD screen may have scratches or wear that is starting to affect the display.
Lenses – May have slight dust inside that does not affect images. The mount shows signs of use.

Well Used – The equipment will show significant signs of wear. The paintwork will be coming away in large areas exposing the metal work, but the product has been fully tested and is in great working order.

Cameras – LCD screen is heavily worn either by de-lamination or has scratches to it. Rubber grips are starting to come away from the body.
Lenses – The lens has dust inside that may affect images. The rubber zoom/focus ring is coming away from the barrel of the lens.
*All of our used items are listed with the accesories that are included. If they are not listed then they will not be supplied at eh epoint of purchase.