Sony A6700 with 16-50mm f/3.5-5.6 Zoom Lens Kit
The upgraded Sony A6700 with 16-50mm f/3.5-5.6 Zoom Lens Kit is packed with flagship hybrid features for creators, to help make compelling 26MP stills and 4K video content with a compact APS-C format mirrorless camera.
WAS £1,549.00
NOW
£1,549.00
SAVE £0.00
Finance available See options
We Love
Hybrid camera and lens kit, which is well suited to lots of types of photography and video content creation
Easy-to-use features improve the quality of stills and raise production values in videos to impress your audience
Ultra-portable standard zoom lens and compact APS-C mirrorless camera, which weigh just over 600g in total
Flagship mirrorless body includes a new APS-C sensor and powerful features that are inherited from professional Alpha cameras
Upgraded with a dedicated AF processor powered by AI, real-time tracking and enhanced subject recognition Sony A6700 with 16-50mm f/3.5-5.6 Zoom Lens Kit Summary
The Sony A6700 with 16-50mm f/3.5-5.6 Zoom Lens Kit combines the recently developed flagship APS-C mirrorless camera, with an ultra-lightweight and compact standard zoom lens, providing versatile reach for photographers and hybrid creators. With a 1.5x crop factor, this APS-C type Sony mirrorless camera effectively extends the focal length of the lens, which makes a tried-and-tested standard 24-75mm equivalent full-frame zoom range.
This focal range is ideal for all sorts of photography and videography, particularly where weight and portability are useful, such as for travel and candid street photography. When you want to capture portraits and landscapes, vlogs or movies, the optically stabilised Sony lens and 5-axis in-body stabilised camera are equipped to help keep subjects sharp.
The upgraded APS-C body from Sony boasts plenty of flagship technology, much of which has been inherited from professional cameras in their line-up. It comes with a brand new 26 megapixel backside-illuminated APS-C sensor with fast readout speeds, the cutting-edge BIONZ XR processor, and a dedicated AI autofocus processor, first seen in the high-resolution Sony A7R V. This provides enhanced AF performance with realtime subject recognition and tracking, with greater accuracy and for a wider variety of subjects than its predecessor. The compact zoom lens in the kit maintains pace with the camera's AF capabilities and helps to keep your subjects pin sharp, whether a Human, Animal, Bird, Insects Car, Train or Airplane.
The entire body has been enhanced inside and out, with improvements to image quality, ergonomics and handling. 4K video at 60fps is downsampled from 6K without pixel binning and you can also capture cropped 4K 120fps and 10x slow motion Full HD using a wide range of new tools and formats. Whether you love photography, video or hybrid content this kit places the latest technology in your fingertips.
Key Sony A6700 Features
26 megapixel backside-illuminated APS-C Exmor R sensor
BIONZ XR engine with up to 8x processing power
AI autofocus processor
5-axis in-body image stabilisation
Selectable HEIF and RAW image quality
11fps continuous shooting with AF/AE tracking
4K Super 35mm 6K oversampled video at 60p, 4K/120p with crop and 240fps Full HD movies
Auto-framing, breathing compensation and additional video features
Real-time AI recognition for AF Human, Animals, Birds, Insects, Cars, Trains and Airplanes
93% sensor coverage with up to 759 phase detection points
Adjustable Creative Looks and advanced colour reproduction
Redesigned grip, new customisable buttons and improved camera control
Updated Sony interface with menu touch and swipe control
Key Sony E PZ 16-50mm Lens Features
Compact standard zoom lens designed for portability
24-75mm equivalent full-frame zoom range
Accurate, fast and quiet autofocus
Power Zoom lever mounted on the lens
Optical SteadyShot for handheld shooting
Circular 7-blade diaphragm
25cm minimum focusing distance
40.5mm filter thread
Read our Sony A6700 review
Learn more about the impressive features which can help elevate your photography in our latest review. Read our Review
Sony A6700 with 16-50mm f/3.5-5.6 Zoom Lens Kit in More Detail
Sony E PZ 16-50mm f/3.5-5.6 OSS Zoom (SELP1650) Lens
The included Sony E PZ 16-50mm f/3.5-5.6 OSS lens is a versatile and high-performing option for the APS-C format A6700 camera. With a 24-75mm equivalent focal length, it covers a wide range of shooting situations, making it an excellent choice for various genres, such as portraits, travel and landscapes.
One of the standout features of this lens is its compact size and it measures under 3cm when retracted, making it highly portable and easy to bring on shoots. Additionally, weighing just 116g, it adds minimal weight to your setup, ensuring comfortable handling and extended shooting sessions without growing tired. Thanks to built-in optical stabilisation you can capture sharp images and steady movies even in low-light conditions, which enhances your ability to capture blur-free shots without the need for a tripod or an additional stabiliser.
The zoom functionality of the lens is smooth and responsive, providing precise control over your compositions by using the handy zoom lever. Sony has incorporated advanced optical technologies into this lens to deliver exceptional image quality, which includes aspherical lens elements to minimise distortion, resulting in accurate and true-to-life images. Additionally, the ED (Extra-low Dispersion) glass elements enhance contrast, resolution and colour accuracy, ensuring detailed, vibrant photographs and videos.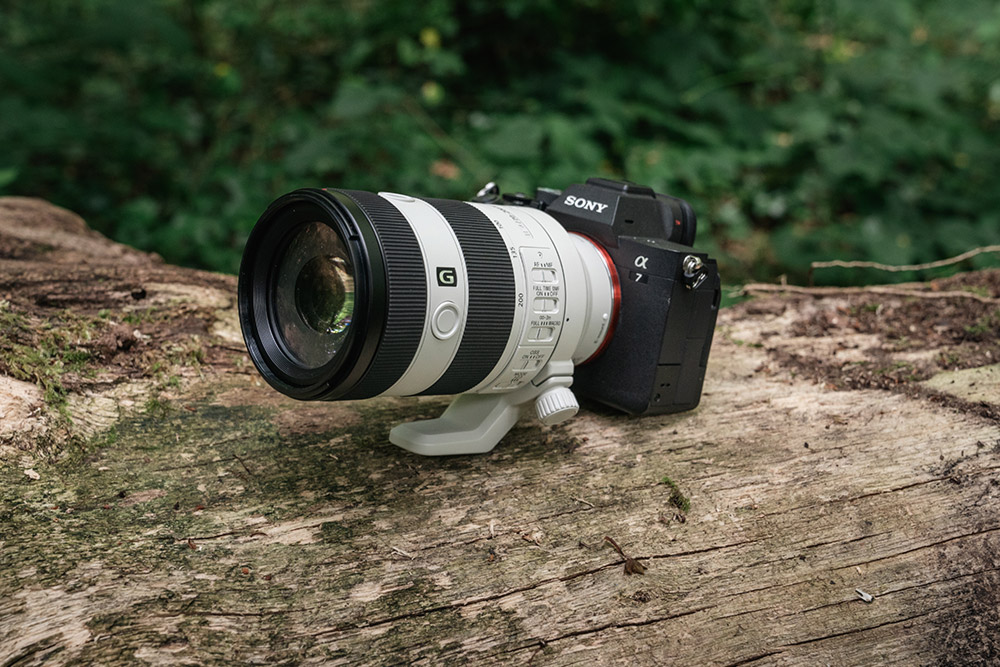 Sony A6700 APS-C Camera in More Detail
New high resolution sensor and powerful BIONZ processor
The Alpha 6700 camera inherits a new 26MP backside illuminated Exmor R sensor with fast readout speeds and wide autofocus coverage, for tenacious AF abilities. The sensor is paired with Sony's BIONZ XR processor, which comes from Alpha professional cameras. Together, these two components define the A6700's stills and video performance, as well as delivering impressive capabilities across the board, with faster start-up times, quicker image review and much more.
The A6700 camera will help you freeze the action in fine details, even in low light, whilst capturing accurate colours, and there's a new range of adjustable Creative Look presets, which create true to life images, or you can add your own unique style to content.
Wide dynamic range with high sensitivity
Make the most of the A 6700's wide ISO range of ISO 100-32,000 for both stills and video, which is expandable to 50-102,400 (stills). When using Exposure Compensation you can also achieve fast and accurate AF as low as -5EV (-3EV without exposure compensation), ensuring you can capture the decisive moment in virtually any lighting conditions.
Upgraded 5-axis in-body stabilisation
When capturing stills, the A6700 provides up to 5.0-stops of stabilisation thanks to a new algorithm, which provides precise detection and control down to a single pixel. This is based on CIPA standard, while using the Sony FE 50mm F/1.2 GM Lens. This allows you to capture sharp results in dimly lit situations while handholding, without needing a tripod or support.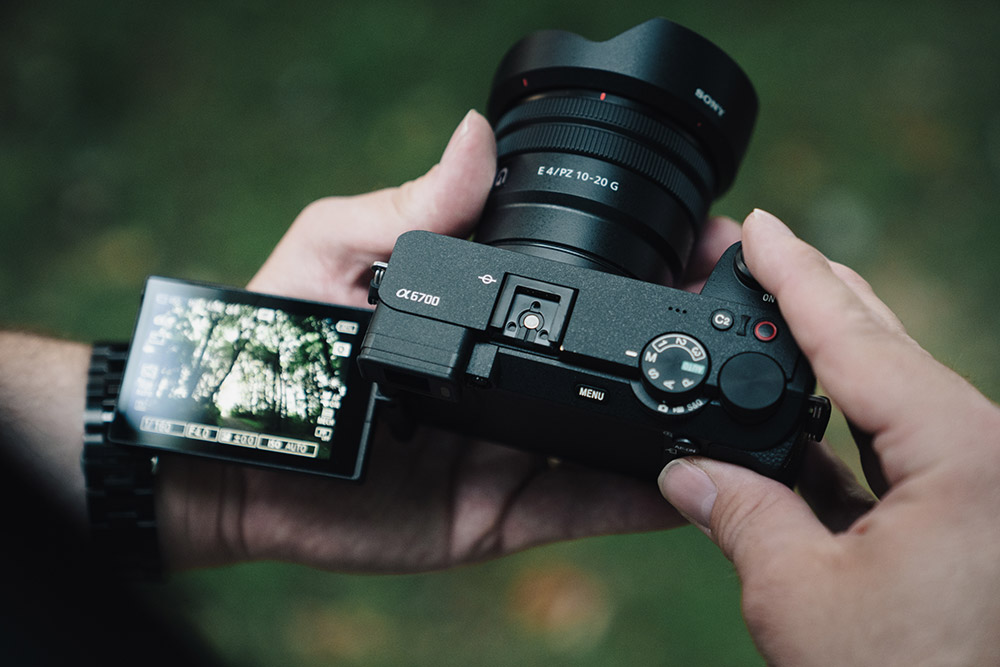 Natural skin tones and improved colours
The AE algorithm (Automatic Exposure) has been evolved for both stills and movies to capture improved colours with more natural skin tones across a variety of situations. AE is also around 20% more reliable than previously when shooting backlit subjects, side profiles, or when a face is too bright in the scene.
The Sony A6700 camera also reproduces more accurate colours under sunlight or artificial light sources, with improvements to auto white balance, especially in difficult lighting. With more accurate colour you can draw attention to the natural beauty of subjects, without needing to make white balance adjustments during post processing.
New selectable image quality and HEIF support
In addition to Lossless Compressed RAW, Sony has added the space-saving HEIF format (High Efficiency Image File) for the first time in a crop series camera. HEIF images capture more colours without making file sizes larger, for more impressive results without needing larger memory cards.
A full resolution lossless Compressed RAW captures approximately 50% – 80% smaller file sizes without degradation, whereas HEIF offers superior image quality, and are available in both 4:2:0 and 4:2:2 options, with smaller file sizes than traditional JPEGs.
Creative in camera looks
If you want to capture distinct styles straight out of camera you can choose from 10 presets (stills and movies), with eight adjustable parameters, such as contrast, saturation and shadows. Having this simple yet effective option means that you can enjoy greater creative freedom by simply choosing a mode for your scene, which can be fine-tuned when desired, once again saving time and creating beautiful results more easily.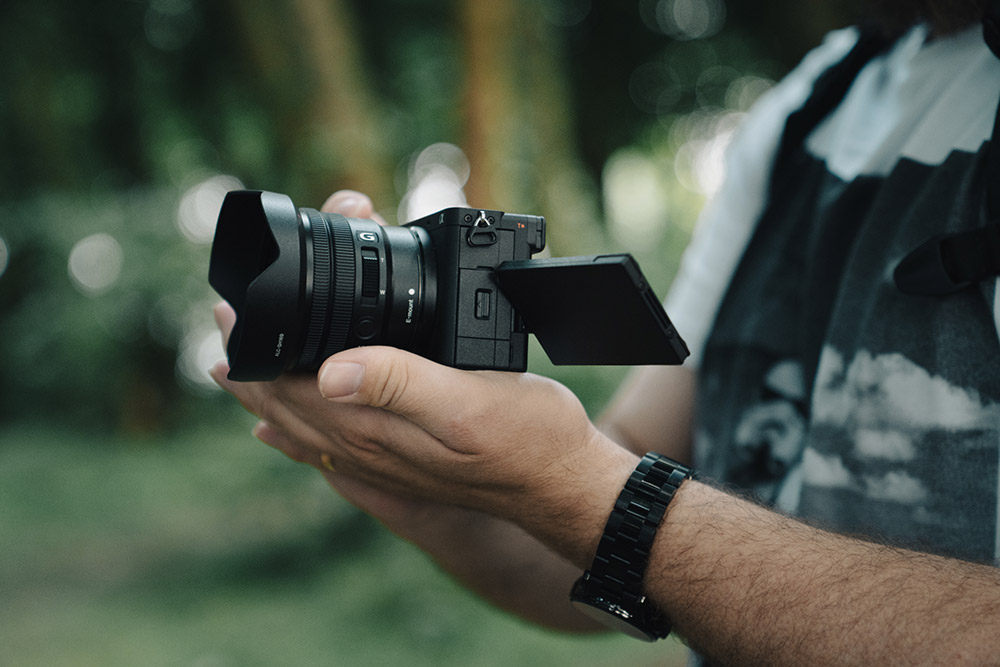 Upgraded shooting performance
When capturing moving subjects, the Sony A6700 will burst continuously at up to 11fps with AF/AE tracking in both electronic and mechanical shutter modes, with a larger buffer memory and faster UHS-II memory cards. Fast bursting with AF and AE locked and a large memory allows you to obtain sharp focus on fast moving subjects for longer, with over 1000 shots recorded in JPEG (fine), 59 RAW images, or 44 RAW + JPEGs.
What's more, Sony's flagship mirrorless camera offers flicker-free shooting (stills and video) when using the electronic shutter, to minimise the effects of flickering/blinking from artificial light sources, such as fluorescent lighting.
Enhanced 4K video performance
You can capture extraordinary video quality with the Alpha 6700, which is capable of Super 35mm 6K oversampling with full pixel readout without pixel binning from 6K oversampled data. As well as beautiful 4K at up to 60p in 4:2:2 the camera will record in a variety of formats, including cropped 4K/120p for 5x slow motion, and 10x slow motion (240fps) in Full HD. These video capabilities allow you to capture engaging movie content in a variety of formats, which will impress your audience.
With upgraded 10-bit 4:2:2 there is no colour subsampling used at all, and compression formats now include XAVC S-I and XAVC HS, which also saves space on your cards. Movies can be recorded with a wide dynamic range using Sony's S-Log 3 gamma, S-Cinetone and Log with LUTs, bringing the A6700 in-line with Sony's pro video cameras such as the FX30.
Further improvements to the A6700's video performance include the ability to capture smoother footage through the use of a precision gyroscope, which is complemented by an advanced algorithm that measures camera shake. Eye AF during clear image zoom is also available, which helps to keep your subject in sharp focus while using the digital zoom feature.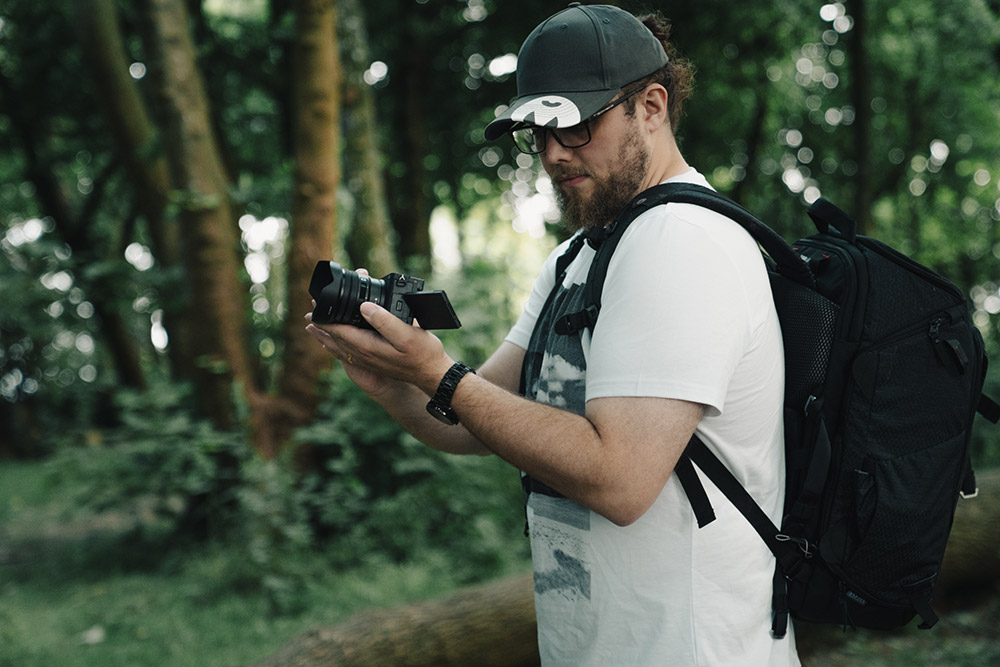 Sony has also added Auto-framing, which is a powerful movie feature that works like a camera operator, by keeping the subject prominently in the frame. Auto-framing enables you to concentrate on the talent and story, without needing to worry about composition. There's also comprehensive support for different types of content, such as:
In-camera timelapse
AF Assist
Focus Mapping
Focus Peaking during AF
Breathing Compensation
Wind Noise Reduction
Metadata image stabilisation, camera rotation and movie mark
These features are included to ensure content creators come away with impressive video in almost any situation, without the need for extensive post processing and in-depth know-how.
Effortless Tracking With AI Powered Autofocus
The Sony A6700 marks a new era for crop format cameras, thanks to the inclusion of a dedicated AI focus processor, which was first seen in the A7R V. This provides significant AF improvements with Realtime subject recognition and a wider range of subjects.
Subjects which the camera recognises and tracks now include Humans, Animals, Birds, Insects, Cars, Trains and Airplanes, which can be selected through the menu. Perhaps the most significant advantage for capturing human subjects is the addition of 'poses estimation,' which enables the camera to estimate a human pose through artificial intelligence by recognising the nose, left and right eyes, ears, shoulders, elbows, wrists, hips, knees and ankles.
You can elect which eye to give prominence for humans and animals, and the camera intelligently switches between an Eye / Head / Body when the subject looks away or moves around the frame. Further improvements over the previous generation focusing includes upgraded recognition and tracking of certain vehicles, with for example the front of a train recognised rather than simply the carriages.
Users have detailed control over AF settings, with the ability to customise various parameters such as persistence, sensitivity and priority when required. You can also leave the default settings and achieve significantly improved focusing when shooting both photo or video.
When compared to the previous generation camera the new sensor has 759 AF points vs 425 for stills, and is more accurate in low light by one f-stop. Another incredibly useful real world addition is Direct Manual Focus (DMF), allowing you to manually focus a compatible lens at any time, even while in AF-C or AF-S. If your subject is behind foliage or a fence for example, you can manually adjust focus, then half-press the shutter to activate AF tracking once again.
Focus bracketing has been extended and will automatically trigger up to 299 images for front to back pin sharp focus. This feature is particularly useful for landscape photography, architecture and macro photography.
Portable design without compromises to useability
One of the key advantages of an APS-C format camera is reduced size and weight over larger full-frame camera and lenses. Sony has capitalised on this with the A6700, which weighs only 493g including the memory card and NP-FZ100 battery, for excellent portability.
A high resolution OLED viewfinder delivers a smooth viewing experience, with brightness almost comparable to the A7R V. The EVF can be set to 60fps or 120fps refresh rate and offers a high 1.07 magnification with 2.36 million dots.
Accompanying the offset rangefinder-style EVF, is an upgraded vari-angle rotating 3-inch LCD touchscreen monitor, which provides new touch and swipe control over menu items and image playback.
Ergonomics has also been improved, with an enhanced grip for heavy or long telephoto lenses and the addition of new controls, all housed within a robust weather sealed magnesium alloy shell. Buttons now include a new customisable front dial, a dedicated Stills/Movie/S&Q dial, AF ON button, C1 and red movie record button. More advanced users can now customise the camera to suit their workflow and switch between key settings more easily, whereas newcomers can leave everything while they familiarise themselves to the system.
Intuitive new interface
Sony's new menu system and menu structure is easier to navigate and provides distinct stills / video menus, in addition to touch operation for shutter / focus / tracking. The updated camera now has more in common with a smartphone, which we have all become accustomed to, with Fn menu swipes and intuitive touch operation.
If you're moving from a previous generation Sony camera control is enhanced and quick to learn, while newcomers will find the A6700 body easy to get the hang of.
Easy content sharing
Connectivity is at your fingertips with the Sony A6700, which can seamlessly link to your smartphone through the Creators' App, enabling stable image transfer and effortless sharing of your content. You can also take your online meetings and streaming to the next level by transforming the camera into a high-quality 4K webcam.
Sony's Creators' Cloud platform opens up a new world of collaborative production possibilities, where you can utilise tools such as Master Cut (Beta) for movie editing, allowing you to refine your footage. And with cloud based asset management – Ci Media Cloud, you can effortlessly collaborate with others, sharing and accessing files seamlessly.
Native APS-C lenses
One of the key advantages of the Sony Alpha mirrorless system is the huge variety of E mount lenses and compatible accessories available for the platform. APS-C lens options include everything from the included zoom to lightweight primes, such as the affordable Sony E 20mm F/2.8 Pancake Lens. There are also all-in-one telephoto zoom lenses available for travel, wildlife and action, like the Sony E 18-200mm F/3.5-6.3 OSS LE Zoom Lens and the lens included in the alternative kit – Sony A6700 with 18-135mm f/3.5-5.6 Zoom Lens.
Crop Sony cameras also accept full-frame lenses (FE), where the image is automatically cropped to APS-C size, without any vignetting. This allows the use of many more options, which will provide a 1.5x crop factor for greater reach, such as the newly released Sony FE 70-200mm f/4 G OSS II Lens (equivalent 105-300mm) and many more.
Sony a6700 accessories
The inclusion of a Multi Interface Shoe allows you to add the latest Sony flashguns, microphones and accessories without the need for cables. Flash options include the compact Sony HVL-F28RM and Sony HVL-F20M Flashgun, which can remote trigger other flash, as well as larger and more powerful models including the flagship HVL-F60RM2 that offers a bright guide number of GN60.
The Multi Interface Shoe even allows for battery-free operation of compatible camera microphones, including the simultaneously released Sony ECM-M1 Shotgun Microphone, which comes with versatile features for solo content creators to capture audio in a variety of situations.
For each additional Sony NP-FZ100 battery the A6700 delivers around 550 shots (Viewfinder) and 570 shots while using the LCD monitor, and the single SD memory card slot has been upgraded to UHS-II speed, catering for higher resolution requirements. We recommend buying at least one or two fast SD cards to ensure the buffer clears as quickly as possible, with models from Sony including the Tough Series 64GB 300MB/S, or alternative brands, such as the Lexar 128GB UHS-II SDXC 250MB/S 1667x.
What's in the box
Sony A6700 Mirrorless Camera Body (APS-C format, E mount)
Rechargeable Battery NP-FZ100
Shoulder strap
Accessory shoe cap
Eyepiece cup
Sony E PZ 16-50mm f/3.5-5.6 OSS Lens
Lens front cap
Offers: Price Drop
Offer Category: N/A
Offer Product Type: N/A
Model: Sony A6700
AE Bracketing: N/A
Autofocus Modes: N/A
Articulated Screen: N/A
Aperture priority: N/A
Battery: N/A
Built-in flash: N/A
Battery Life (CIPA): N/A
Camera CIPA image stabilization rating: N/A
Colour: N/A
Continuous drive (fps): N/A
Custom white balance: N/A
Digital zoom: N/A
Effective pixels (megapixels): N/A
Environmental Sealing: N/A
Exposure compensation: N/A
External flash: N/A
Flash range (metres): N/A
Focal length (equiv.): N/A
Focal length multiplier: N/A
Flash modes: N/A
GPS: N/A
HDMI Port: N/A
Headphone port: N/A
Height (mm): N/A
Length (mm): N/A
Width (mm): N/A
Weight (g): N/A
Weight (inc. batteries) (g): N/A
Image ratio w:h: N/A
Camera Image stabilization: N/A
ISO: N/A
JPEG quality levels: N/A
Live view: N/A
Camera Lens mount: N/A
Manual exposure mode: N/A
Maximum shutter speed (electronic): N/A
Maximum ISO: N/A
Maximum ISO (boosted): N/A
Max resolution: N/A
Maximum shutter speed (seconds): N/A
Maximum aperture: N/A
Manual focus: N/A
Microphone: N/A
Microphone port: N/A
Camera Minimum focus distance (cm): N/A
Minimum ISO: N/A
Minimum ISO (boosted): N/A
Minimum macro focus distance (cm): N/A
Minimum shutter speed (seconds): N/A
Metering modes: N/A
Number of focus points: N/A
Number of white balance presets: N/A
Optical zoom multiplier: N/A
Orientation sensor: N/A
Other resolutions: N/A
Processor: N/A
Remote control: N/A
Screen dots: N/A
Screen size: N/A
Screen type: N/A
Self-timer: N/A
Shutter priority: N/A
Speaker: N/A
Sensor photo detectors (megapixels): N/A
Sensor size: N/A
Sensor type: N/A
Storage types: N/A
Subject / scene modes: N/A
Timelapse recording: N/A
Touchscreen: N/A
Camera Type: N/A
Uncompressed format: N/A
Camera USB: N/A
USB charging: N/A
Viewfinder coverage: N/A
Viewfinder magnification: N/A
Viewfinder resolution: N/A
Viewfinder type: N/A
Video formats: N/A
Video Mode Categories: N/A
Video Modes: N/A
WB Bracketing: N/A
Wireless: N/A
Notes: N/A
Thinking of choosing finance?
Finance is a great way to spread the cost of your purchase. To make it easy we've teamed up with Deko whose technology lets you apply for and complete a loan application quickly, easily and informatively.
Deko is a credit broker, not a lender. Deko's secure technology helps put you in touch with lenders whose finance options are best suited for you and your purchase.
Simply add the items you love to your basket. Once you are at the checkout select the finance option that suits you and choose Deko. The quick application form is simple and should take no more than a couple of minutes to complete and you will receive a decision instantly. Easy!
Use our finance calculator to check the impact of various loan values, terms and interest rates on the total amount you need to pay and the monthly repayments.
Check your eligibility
You will only be considered for finance if you:
Are at least 18 years old
You have a gross annual income each year of more than £5,000
Are a permanent UK resident and have lived in the UK for at least 3 years
Have a UK bank account capable of accepting Direct Debits
You are not currently bankrupt, subject to an Individual Voluntary Agreement (IVA), or have any County Court Judgments (CCJs)
Provide an email address so your documentation can be emailed to you.

Please note that, due to calculations, your monthly repayment may differ very slightly from what you were expecting. Please check your monthly repayment figure before proceeding
Missed or late payments will result in fees and additional interest on your loan and can also affect your credit file and your ability to obtain credit in the future.
Credit is subject to status, UK only, 18+
Park Cameras Limited is a credit broker, not a lender and is authorised and regulated by the Financial Conduct Authority (FRN 720279). We do not charge you for credit broking services. We will introduce you exclusively to finance products provided by Duologi.
The Deko platform is provided by Pay4Later Ltd, t/a Deko which acts as a credit broker, not a lender and does not charge you for credit broking services. Pay4Later Limited is registered in England and Wales (company number 06447333) and is authorised and regulated by the Financial Conduct Authority (register number 728646). For more information please go to www.dekopay.com/support or visit www.dekopay.com.
Find out more about paying with finance here and Deko terms here
Our Verdict
The Sony A6700 is paired with Sony's 16-50mm f/3.5-5.6 Zoom Lens in this Kit, which makes an excellent choice for hybrid content creators thanks to providing versatility and powerful capabilities. The camera features the highest ever resolution APS-C sensor from Sony, which delivers exceptional image quality for both photography and video. With a compact and lightweight design, this kit is also highly portable, allowing you to bring a versatile system for on-the-go content creation.
The included 16-50mm f/3.5-5.6 zoom lens is suitable for capturing a wide range of subjects and scenery, from wide-angle landscapes to mid-telephoto portraits, this zoom offers the flexibility to meet many creative briefs. It is particularly well-suited for vlogging, travel photography, and everyday walk-around shooting, and both the camera and lens feature effective image stabilisation to help capture sharp results.
The Sony A6700 has been upgraded with highly advanced autofocus and AI-driven subject recognition and tracking, for precise and reliable focus on moving subjects. This is especially beneficial for content creators who capture fast-paced action or subjects in motion, whether humans, birds, animals or others, which can now be captured at up to 11fps with full AE/AF.
The camera's video capabilities are equally impressive, supporting 4K/60p with various movie compression and log formats to choose from. Hybrid content creators can take advantage of features like smooth autofocus transitions, cinematic image quality and high frame rates for slow-motion effects.
The A6700 also provides seamless connectivity options, allowing for quick and easy sharing of content using built-in Wi-Fi and Bluetooth. This enables content creators to transfer images and videos wirelessly to their smartphones for immediate editing and sharing on social media platforms.
The Sony A6700 with 16-50mm f/3.5-5.6 Zoom Lens Kit is a powerful and versatile tool for hybrid creators of all abilities. Its combination of high-quality imaging, compact design, advanced autofocus, and impressive video capabilities make it an excellent choice for capturing stunning photographs and engaging videos.
If you want to sell camera gear which is no longer being used, or upgrade from an older model, grab a fast and free quote and we'll send you cash to offset the cost of this kit!
Existing Customer Login
If you are already a member, fill in the details below to login & view your account.
New Customer Signup
Create an account with Park Cameras
Register
Condition guide
Our used products are subject to wear and tear in comparison to brand new products. This also applies to accessories that are supplied with the camera including batteries which may have a lower optimum performance level/life expectancy.
Like New – The equipment is in a condition as if you have just bought it from the manufacturer. The item is still considered to be 'Like New' even without the original packaging and accessories. The product has been fully tested and is in perfect working order. Lenses are optically clear. There may be light dust present that will not effect the imagery.
Excellent – The equipment should be close to being 'Like New' but there may be some small cosmetic blemishes that lower its grade. The product has been fully tested and is in perfect excellent order.

Cameras – Should have no marks on the LCD screen
Lenses – Should have no marks on the elements and optically clear. There may be light dust present that will not effect the imagery.

Very Good – The equipment may have some slight cosmetic wear to the paintwork and cosmetic blemishes with only light signs of use and the product has been fully tested and is in great working order.

Cameras – The LCD screen may have small signs of wear that does not affect its display
Lenses – The mount of the lens will start to show signs of wear

Good – The equipment is showing more obvious signs of cosmetic wear and blemishes, but the product has been fully tested and is in great working order.

Cameras – LCD screen may have scratches or wear that is starting to affect the display.
Lenses – May have slight dust inside that does not affect images. The mount shows signs of use.

Well Used – The equipment will show significant signs of wear. The paintwork will be coming away in large areas exposing the metal work, but the product has been fully tested and is in great working order.

Cameras – LCD screen is heavily worn either by de-lamination or has scratches to it. Rubber grips are starting to come away from the body.
Lenses – The lens has dust inside that may affect images. The rubber zoom/focus ring is coming away from the barrel of the lens.
*All of our used items are listed with the accesories that are included. If they are not listed then they will not be supplied at eh epoint of purchase.