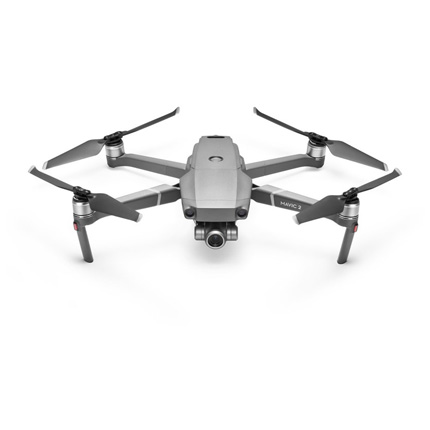 DJI Mavic 2 Zoom Quadcopter
Powered by a "2.3-inch 12-megapixel sensor with up to four-times zoom, including a two-times optical zoom (24mm—48mm) the Mavic 2 Zoom is all about dynamic perspectives.
view full description
Product Code: 9702700M
Mavic 2 Zoom 24-48 mm Optical Zoom Camera
Powered by a "2.3-inch 12-megapixel sensor with up to four-times zoom, including a two-times optical zoom (24mm—48mm) the Mavic 2 Zoom is all about dynamic perspectives. Capture everything from wide angle to mid-range shots for even more creative options.
Up to 8km 1080p Video Transmission
Up to 31-min Flight Time
Omnidirectional Obstacle Sensing
Hyperlapse
Active Track 2.0
Compatible with DJI Goggles Series
Foldable and Portable
With its foldable design the Mavic 2 Zoom is ready to go wherever you are. Folded down it is 9.1cm wide, 8.4cm tall and 21.4cm long.
OcuSync 2.0 Digital Video System
With OcuSync 2.0 DJI have pushed the limits of video transmission, capable of traveling up to 8km away while streaming 1080p live video the Mavic 2 Zoom will always keep you in the picture.
Please check the drone laws in your local area before flying and never exceed the legal limits of fly nearby congested areas.
8km 1080p live video
24/5.8 GHz real-time auto-switching
40 Mbps download speed
120 ms low latency
Fly Faster, Longer and Quieter
With up to a 31-minute flight time, the Mavic 2 Zoom gives you more time to get the shot you need. It also has a max possible speed of 45mph (72kph). DJI have also focused on reducing the Mavic 2's aero dynamic Zoomfile and its noise.
Omnidirectional Obstacle Sensing
- Obstacle sensors on all sides of the aircraft.
- Advanced Pilot Assistance Systems (APAS) allows the aircraft to actively avoid obstacles in front of and behind it.
- Additional Bottom Auxiliary Light for low-light conditions, which assists the downward sensors.
3-Axis Gimbal
The Mavic 2's 3-axis gimbal Zoomvides smooth, stable footage in just about any situation, and partnered with the Hasselblad camera is a formidable shooting machine!
More Expressive Mid-Range Shots
Compared to a 24 mm1 wide angle lens, the 48 mm1 telephoto lens compresses your perspective, enhancing the parallax effect for a classic cinematic look.
Worry-Free and Efficient Shooting
When shooting Full HD video, 4x lossless Zoom (including 2x optical zoom) gives you a closer view of faraway subjects, making unique scenes more accessible to capture at a distance - scenes that perhaps are too risky to catch by flying too close.
Quick and Accurate Focus
Hybrid autofocus on the Mavic 2 Zoom combines phase and contrast detection for higher focus accuracy with an increased focus speed of up to 40% than before. The autofocus tracking system makes subjects appear clear and sharp when zooming in and out.
Zoom During Flight
Dolly Zoom is a new QuickShot for the Mavic 2 Zoom, offering an otherworldly perspective never before seen in a fully-integrated drone. Dolly Zoom automatically adjusts focus when flying, adding an intense, warping visual effect to your videos. Set proper focus speed values for even more creative shot options when flying manually.
48-Megapixel Super Resolution Photos
When taking a picture in 24 mm equivalent field of view, the camera will capture and patch nine photos with its telephoto lens, resulting in a 48-megapixel super resolution photo in vivid detail.
Mavic 2 Zoom Hyperlapse
With Hyperlapse, the aircraft shoots stable aerial shots and processes them automatically. JPEG and RAW photos can be simultaneously saved on a microSD, leaving more room for post editing.
H.265 Codec for Higher Quality Video
Both editions support the advanced H.265/HEVC codec,S which maintains 50% more information than videos in H.264/AVC, preserving more details.
Intelligent & Easy ActiveTrack 2.0
With the improvements of both hardware and software, ActiveTrack 2.0 gives you a great tracking experience at a whole new level.
Precise Recognition
Previously, ActiveTrack mainly relied on 2D images from the main camera to track a subject. Now with ActiveTrack 2.0, the Mavic 2 maps a 3D view of the environment through the main camera and forward dual vision sensors for greater recognition and accuracy.
Trajectory Prediction
Trajectory prediction algorithms help to maintain tracking when your subject is temporarily blocked by an obstruction.
High-speed Tracking
In open and unobstructed environments, the Mavic 2 can track fast moving subjects like cars and boats at speeds of up to 72 kph
* Obstacle sensing is not available during high-speed tracking.
Avoiding Obstacles
When tracking a target, the Mavic 2 can plan a fight path on its 3D map. It will read, recognize, and avoid obstacles in front of and behind the aircraft, all while shooting your target without interruption.
Introducing the DJI Mavic 2 Zoom & Pro
x1 - Mavic 2 Zoom Drone
x1 - Intelligent Flight Battery
x1 - Charger
x1 - Power Cable
x3 - Propellers (pair)
x1 - Gimbal Protector
x1 - Comunication Cable (USB 3.0 Type-C)*
x1 - Spare Control Sticks (pair)*
x1 - Remote Controller
x1 - RC Cable (Lightning connector)
x1 - RC Cable (Standard Micro USB connector)
x1 - RC Cable (USB Type-C connector)
x1 - USB Type-C to Micro USB adaptor *
x1 - RC Cable Slider (Large)*
x2 - RC Cable Slider (Small)*
* Accessories are not covered by warranty.
Our Verdict

The DJI Mavic Zoom 2 distinguishes itself with it's 2x optical zoom (24-48mm), allowing you to achieve a compressed perspective for a cinematic feel to your footage. It can transmit 1080p live video up to an impressive 8km away, and with improved battery life of 30minutes flight time, there is a lot to love on this drone from DJI.
We Love
Zoom to add compression to your shots
30 minutes flight time
Transmit 1080p live video over 8km
Enhanced obstacle avoidance
Existing Customer Login
If you are already a member, fill in the details below to login & view your account.
New Customer Signup
Create an account with Park Cameras
Register
Like New – The equipment is in a condition as if you have just bought it from the manufacturer. The item is still considered to be 'Like New' even without the original packaging. The product has been fully tested and is in perfect working order.
Excellent – The equipment should be close to being 'Like New' but there may be some small cosmetic blemishes that lower its grade. The product has been fully tested and is in perfect excellent order.

Cameras – Should have no marks on the LCD screen
Lenses – Should have no marks on the elements or dust within the lens

Very Good – The equipment may have some slight cosmetic wear to the paintwork and cosmetic blemishes with only light signs of use and the product has been fully tested and is in great working order.

Cameras – The LCD screen may have small signs of wear that does not affect its display
Lenses – The mount of the lens will start to show signs of wear

Good – The equipment is showing more obvious signs of cosmetic wear and blemishes, but the product has been fully tested and is in great working order.

Cameras – LCD screen may have scratches or wear that is starting to affect the display.
Lenses – May have slight dust inside that does not affect images. The mount shows signs of use.

Well Used – The equipment will show significant signs of wear. The paintwork will be coming away in large areas exposing the metal work, but the product has been fully tested and is in great working order.

Cameras – LCD screen is heavily worn either by de-lamination or has scratches to it. Rubber grips are starting to come away from the body.
Lenses – The lens has dust inside that may affect images. The rubber zoom/focus ring is coming away from the barrel of the lens.