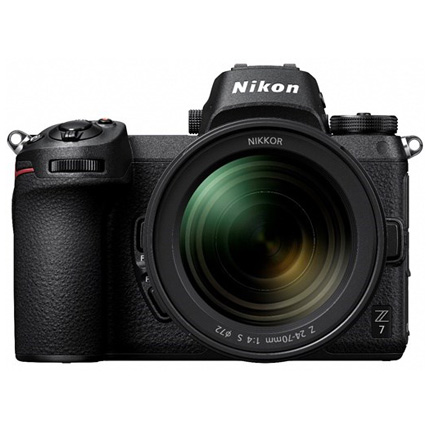 Nikon Z7 Full Frame Mirrorless Camera + 24-70mm f/4 S Lens
Nikon's Z7 is their first full-frame mirrorless compact system camera . Featuring 45MP, 493 Focus points & incredible low-light capability thanks to the Z-Nikkor Mount, it heralds a new dawn of photography for Nikon lovers.
view full description
Product Code: 3017602K
Nikon Z 7 Full Frame Mirrorless compact system camera with 24-70mm f4 s lens
Nikon's First Full-Frame Mirrorless Camera
Nikon's long-awaited launch into the full-frame mirrorless market has been setting the benchmark for the future of photography. With the introduction of the new Nikon Z-NIKKOR mount, Nikon say they are putting in the groundwork for the next 100 years.
The Nikon Z7 has the specification to rival professional level Digital SLRs (DSLRs) on the market, but with the benefits of mirrorless – smaller, with incredible autofocus and the capacity to shoot & process at frame rates that a DSLR would struggle to match.
The camera body is noticeably smaller and lighter than a DSLR with equivalent spec. Nikon have focused on making it comfortable to hold - with a deep grip and textured front. The rear of the camera has controls that are easily accessible (with custom functions to allow for personalisation), with the option to use either the high resolution 3.6m dot Eye View Finder or the tilt and touchscreen 3.2" LCD screen.
Nikon's New Z-Nikkor Mount
Nikon have looked to the future with their new Z-NIKKOR mount. Wider than the F Mount used on Nikon's DSLR system, it has been designed to be compatible with lenses that have an aperture of f/0.95.
This shows that Nikon intend for their mirrorless full-frame system to be a market leader when it comes to low light performance – as critical to video performance as it is for shooting stills in low-light conditions.
The good news for Nikon DSLR users is that there is a mount adapter available for the current range of F Mount lenses. This enables a transition period of using a whole range of existing lenses that are not yet available with the new Z-NIKKOR mount.
And of course, it ensures that the booming second-hand market is available to mirrorless users – so if you require an ultra-wide-angle, macro or telephoto lens, you have these available straight from launch.
So Fast It Blurs The Lines Between Stills And Video
The eXpeed 6 processing engine takes its heritage from the Nikon D5 – it's inherently designed to deal with shooting at fast frame rates - absorbing the associated buffering without reducing the camera's ability to be ready for the next shot. With a 45.7MP sensor, it needs it – which is why it requires either an XQD card or CF Express card, rather than a 'standard' SD card.
With a 45.7MP CMOS sensor, the Z7's high resolution will appeal to professional portrait photographers, commercial and landscape photographers alike. And with a speed of 9fps, it is no slouch – capable of capturing sports and action.
The video features look to distinguish this camera – 4K UHD with N Log, Time Code, 10 BIT HDMI and a colour bit depth of 8:2:2 will get video buffs sitting on the edge of their seat. There is also Focus Peaking on 4K video, and the option of extracting stills at 8K.
Primary Features:
Standard focal-length range from wide-angle 24 mm to medium-telephoto 70 mm can effectively cover a wide variety of scenes and subjects with rendering performance that will change the perception of zoom lenses with a maximum aperture of f/4
Optical design that suppresses variations in aberrations from shooting distances of close-up to infinity, demonstrating sharp resolution even in the peripheral areas of the frame from the maximum aperture; and fine point-image reproduction
Achieved a minimum focus distance of just 0.3 m across the zoom range,
Has the size needed to deliver an extremely high standard of optical performance, yet provides outstanding portability; employs a retracting mechanism that can be set on/off without pressing a button and reduces total length for a compact lens that can easily be taken anywhere
In consideration to a dust- and drip-resistance, the entire lens, including moving parts, has been sealed
With the world's widest full-frame mount, the agile Z 7 mirrorless camera captures light as never before.
BIG MOUNT. BIG IMPACT.
The wide 55 mm mount diameter means your Z series camera takes in more light. Just 16 mm between the mount and the camera's full-frame image sensor means more of that light reaches the sensor.
INSPIRED BY LIGHT.
From twilight blues to graphic shadows. The powerful optical design of Nikon Z mount lenses, combined with the wide mount, gives you the power to work magic with the light.
Life in front of you
Be bold. Be subtle. With 45.7 MP of full-frame imaging power, beauty is yours to define.
Incredible detail. Phenomenal focus.
The back-illuminated 45.7 MP full-frame CMOS sensor with focal-plane phase-detection AF captures razor-sharp images.
Beyond fast
The blazing EXPEED 6 image processor delivers images with low noise and stunning dynamic range at both high and low ISO values.
FULL FRAME. FULL VISION.
Meet the challenge of ultra-high pixel counts with phenomenal precision. Follow your intuition all the way to the edge.
With Eye-Detection AF, your Nikon Z camera can lock onto your subject's eye whether they're alone or a face in a crowd. You select which eye to focus on via the multi-selector, and the camera maintains focus even if the eye is briefly obscured.
Animal-Detection AF
Portraits don't stop with people. Pets make up for great subjects, but they are a serious challenge. Nikon's Animal-Detection AF makes animal portraits easy. It allows hassle-free, automated detection and focusing on the eyes of cats and dogs, with all the same benefits known from Eye-Detection AF. This gives the freedom to concentrate on composition and timing. Even in video, animal faces are recognised and reproduced tack sharp.
CREATE WIDELY
Stay sharp with ultra-wide autofocus (AF) coverage across 90 % of the frame. Combined with the incredible focusing power of Nikon Z mount lenses, even Subjects at the edge of the frame are easily detected.
FOCUS FREELY
The AF system spots movement instantly. Even small or fast-moving subjects are tracked with absolute precision in any light. And you can use Pinpoint AF mode to hone in on the smallest details.
INSIDE THE LIGHT
Exposure metering down to -4 EV is available when shooting with a lens that has a maximum aperture of f/2 or faster.
CAPTURE THAT EXPRESSION
An intelligent Face-Detection-AF processor detects and holds faces, even when the subject briefly looks away.
Shoot every scene in exquisite detail with Full-frame 4K video.
Mesmerising action
Record full-frame 4K/UHD movies at 30p. Achieve enthralling slow motion with richly detailed Full HD movies at up to 120p. You can easily capture still frames while filming in 4K or Full HD.
High resolution
Oversampling from 8K enables 4K footage with spectacular fineness and detail. The fast EXPEED 6 processor ensures beautifully clean files, remarkably free of noise, moiré, and false colour.
Beautiful control
Bright Nikon Z mount lenses offer silent autofocus and exquisite bokeh. And you can get an assist from in-camera focus peaking as you manually rack focus through a scene.
Stable motion
AF speed and AF tracking sensitivity can be set during movie recording. The incredible focusing power of Nikon Z mount lenses reduces the unwanted effects of focus breathing, and focus shift when zooming.
Cut. Recut. Inspire.
On location or in the editing suite - find your flow.
10-BIT N-LOG
Create character. Record at a high 10-bit depth and retrieve 4x more information than with a standard 8-bit recording, giving you maximum image quality for editing and grading. Activate View Assist to see a standard image with simple grading compensation.
TIMECODE OUTPUT
Stay in tune. Record timecode in drop-frame or non-drop-frame formats, and output via 10-bit HDMI. The Z 7 is Atomos Open Protocol compatible: you can sync the start/stop of HDMI movie recording via your external recorder. Or via the camera.
ACTIVE D-LIGHTING
Balance the light. In-camera Active D-Lighting balances lights and shadows in high-contrast scenes. Perfect for footage that needs to be ready to go as soon as you're wrapped.
RAW VIDEO
Edit and grade footage with RAW video data from the camera sensor. The Nikon Z 7 can output a 12-bit RAW video stream over HDMI to an external recorder such as the Atomos Ninja V. This functionality can be activated at a Nikon service centre.
PRORES RAW
The video stream is recorded as ProRes RAW.⁵ Ideal for HDR workflows, you get maximum flexibility when grading, and extended detail in bright and dark areas.
CREATE NEW WORLDS
You can create 4K/UHD time-lapse sequences in-camera. And the sensor's 45.7 effective megapixels let you create jaw-dropping 8K time-lapse movies in post, using stills captured during interval timer shooting.
Straight to camera
Nikon's advanced 3686k-dot electronic viewfinder keeps the view clear. The ultra-bright, ultra-sharp EVF doesn't leave anything out of the frame.
ROBUST
Aspherical glass elements and protective coatings prevent flare, reflections, and dirt from limiting your view. Benefit from high visibility at night, and clear views in bright light.
SHARP
The large, clear OLED EVF reproduces colours naturally and handles motion smoothly. Sharp, stable images make composition comfortable - even if you're panning quickly or have zoomed in to confirm focus.
VERSATILE
The EVF can display images as they'll look with settings applied, or you can go with a natural image, similar to that of an optical viewfinder. You can overlay key shooting information to aid composition in either view.
Create. Connect. Collaborate.
Speed up work flow with CFexpress
CFexpress Type B cards are supported on the Nikon Z 6 and Z 7⁶. Benefit from lightning-fast re-write speeds and blazing data transfer from camera to computer. Make light work of large files.
Connect to a smart device
Use the built-in Wi-Fi® and Bluetooth® to quickly connect to any smart device with SnapBridge. Instantly share JPEGs. Shoot stills and video remotely.
Connect to a computer
Wirelessly transfer JPEG and RAW images smoothly in Station mode or Access Point mode. Use the optional WT-7A wireless transmitter for wired/wireless LAN over greater distances.
PRODUCT FEATURES IN DETAIL
Model
Z 7 Body
Effective pixels
45.7 Million
Image sensor
Backside illumination FX format CMOS sensor, employing focal-plane phase-detection AF pixels
Lens mount
Compatible with Nikon F Mount
Image-processing engine
EXPEED 6
Picture Control system
Mid-range Sharpening. Creative Options: Dream / Morning / Pop / Sunday / Somber / Dramatic / Silence / Bleached / Melancholic / Pure/Denim / Toy / Sepia / Blue / Red / Pink / Charcoal / Graphite / Binary / Carbon
"Effective level" function
Still image
Still images can be taken while shooting video*
Storage media
XQD
Viewfinder
Approx. 100% frame coverage, approx. 0.8x magnification
Quad-VGA, approx. 3690k-dot EVF
Shutter speed
1/8000 to 30 s, x200
Continuous shooting speed
Up to approx. 9 fps (extended)
ISO sensitivity
64 to 25600
Maximum AF points/area coverage
493 points (phase-detection, in FX format with single-point AF)/90%
AE
TTL metering using camera image sensor
Video
4K UHD/30p Full HD/120p (DX)
N-Log (HDMI 10-bit output)
eVR
Attenuator
Time-lapse photography
4K UHD, Full-HD, exposure smoothing
Silent photography
Monitor
Tilting, touch-operational 8-cm/3.2-in., 2100k-dot
Shutter durability
Tested 200,000 cycles
Communication functions
Wi-Fi/BT
(5 GHzPC transfer, WT-7/A/B/C supported)
Compatible Software
Picture Control Utility 2 (Common with Capture NX-D, ViewNX-i and Camera Control Pro 2)
Creative Picture Control supported (each parameter can be adjusted)
Capture NX-D
Colour control point incorporated
Camera Control Pro 2
Movie functions can be controlled
Subject tracking situation of auto-area AF can be confirmed from a computer
Battery Life
330 Shots
Dimensions (W x H x D)
Approx. 134 x 100.5 x 67.5 mm/5.3 x 4 x 2.7 in.
Weight
Approx. 675g/1 lb 7.9 oz
NIKON Z7 SPECIFICATIONS
| | |
| --- | --- |
| Sensor Type | Full frame Z-Mount Fix format backside illuminated |
| Megapixels | 45.7 megapixel with EXPEED 6 image processor |
| ISO range | f/64 - 5600 |
| Focus points | 49 phase detection points cross 90% of sensor |
| Continuous shooting | up to 9fps |
| Video resolution | 4k UHD /0p full hd/0p |
| LCD Screen | Tilting touch screen 8cm 00k dot |
| viewfinder | Quad VG 960 dot, 100% frame coverage 0.8x magnification |
| Wireless connectivity | Wi-Fi Bluetooth |
| Lens compatibility | Z-Mount, F-Mount adapter available |
| Storage Type | XQD, CF express |
| Dimensions | 4x00.5x67.5mm |
| Weight | 675g (body only) |
Model: N/A
AE Bracketing: N/A
Autofocus Modes: N/A
Articulated Screen: N/A
Aperture priority: N/A
Battery: N/A
Built-in flash: N/A
Battery Life (CIPA): N/A
Camera CIPA image stabilization rating: N/A
Colour: N/A
Continuous drive (fps): N/A
Custom white balance: N/A
Digital zoom: N/A
Effective pixels (megapixels): N/A
Environmental Sealing: N/A
Exposure compensation: N/A
External flash: N/A
Flash range (metres): N/A
Focal length (equiv.): N/A
Focal length multiplier: N/A
Flash modes: N/A
GPS: N/A
HDMI Port: N/A
Headphone port: N/A
Height (mm): 216
Length (mm): N/A
Width (mm): 686
Weight (g): 19595
Weight (inc. batteries) (g): N/A
Image ratio w:h: N/A
Camera Image stabilization: N/A
ISO: N/A
JPEG quality levels: N/A
Live view: N/A
Camera Lens mount: N/A
Manual exposure mode: N/A
Maximum shutter speed (electronic): N/A
Maximum ISO: N/A
Maximum ISO (boosted): N/A
Max resolution: N/A
Maximum shutter speed (seconds): N/A
Maximum aperture: N/A
Manual focus: N/A
Microphone: N/A
Microphone port: N/A
Camera Minimum focus distance (cm): N/A
Minimum ISO: N/A
Minimum ISO (boosted): N/A
Minimum macro focus distance (cm): N/A
Minimum shutter speed (seconds): N/A
Metering modes: N/A
Number of focus points: N/A
Number of white balance presets: N/A
Optical zoom multiplier: N/A
Orientation sensor: N/A
Other resolutions: N/A
Processor: N/A
Remote control: N/A
Screen dots: N/A
Screen size: N/A
Screen type: N/A
Self-timer: N/A
Shutter priority: N/A
Speaker: N/A
Sensor photo detectors (megapixels): N/A
Sensor size: N/A
Sensor type: N/A
Storage types: N/A
Subject / scene modes: N/A
Timelapse recording: N/A
Touchscreen: N/A
Camera Type: N/A
Uncompressed format: N/A
Camera USB: N/A
USB charging: N/A
Viewfinder coverage: N/A
Viewfinder magnification: N/A
Viewfinder resolution: N/A
Viewfinder type: N/A
Video formats: N/A
Video Mode Categories: N/A
Video Modes: N/A
WB Bracketing: N/A
Wireless: N/A
Notes: N/A
Our Verdict
Equipped with a new backside illumination Nikon FX-format CMOS sensor with built-in focal-plane phase-detection AF
A hybrid AF system with focus points covering approximately 90% of the imaging area
The new EXPEED 6 image-processing engine for sharp and clear imaging and new functions that support creative expression
An electronic viewfinder that utilises Nikon's superior optical and image-processing technologies to offer a clear and natural view
An ergonomic design unique to Nikon that enables intuitive operation
We Love
Crystal sharp image quality
Unrivalled video capacity
Future-proofed Z-NIKKOR Mount
Mount adaptor available for F Mount lenses
Compact, ergonomic design and water/dust-proof body
Existing Customer Login
If you are already a member, fill in the details below to login & view your account.
New Customer Signup
Create an account with Park Cameras
Register
Like New – The equipment is in a condition as if you have just bought it from the manufacturer. The item is still considered to be 'Like New' even without the original packaging. The product has been fully tested and is in perfect working order.
Excellent – The equipment should be close to being 'Like New' but there may be some small cosmetic blemishes that lower its grade. The product has been fully tested and is in perfect excellent order.

Cameras – Should have no marks on the LCD screen
Lenses – Should have no marks on the elements or dust within the lens

Very Good – The equipment may have some slight cosmetic wear to the paintwork and cosmetic blemishes with only light signs of use and the product has been fully tested and is in great working order.

Cameras – The LCD screen may have small signs of wear that does not affect its display
Lenses – The mount of the lens will start to show signs of wear

Good – The equipment is showing more obvious signs of cosmetic wear and blemishes, but the product has been fully tested and is in great working order.

Cameras – LCD screen may have scratches or wear that is starting to affect the display.
Lenses – May have slight dust inside that does not affect images. The mount shows signs of use.

Well Used – The equipment will show significant signs of wear. The paintwork will be coming away in large areas exposing the metal work, but the product has been fully tested and is in great working order.

Cameras – LCD screen is heavily worn either by de-lamination or has scratches to it. Rubber grips are starting to come away from the body.
Lenses – The lens has dust inside that may affect images. The rubber zoom/focus ring is coming away from the barrel of the lens.