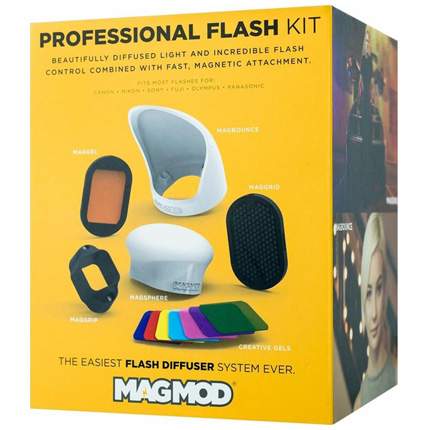 ultimate flexibility
Universally awesome.
The MagGrip's universal design attaches to almost any hotshoe flash ever made, making it one small investment that grows with you and your business.
Want to upgrade your flash later down the road? No prob. The MagGrip works with a variety of mixed flash brands, so you won't need to upgrade all of your modifiers when you move up to a different size flash. You're welcome.
Velcro is for grandma's shoes. Not for speedlites.
Gone are the days of fighting with annoying velcro, sticky adhesives, bulky straps or mad scientist DIY contraptions to secure modifiers to your flash.
With two freakishly strong magnets embedded in the MagGrip, you can add and remove our magnetic modifiers in an instant. You'll work more efficiently and look like the professional you are.
Speedlite grids done right.
Nothing to lose. Nothing to break. Faster than lightning.
We've taken the typical grid and redesigned it, making our MagGrid a super durable, magnetized honeycomb grid.
Because you can never have too many modifiers.
With the MagGrip on your flash, you can instantly (and quietly!) add our magnetic modifiers to control the color, shape, and level of light in your shot.
Stack as many MagMod modifiers on top of the MagGrip as your heart desires in any order. Go nuts. Get creative.
With MagMod gear simplifying your process, you can actually focus on your photography.
250% better than your bare flash.
The MagSphere is a beautiful omni-directional flash diffuser that gives you the the best looking light possible. With efficient diffusion that saves battery power and an integrated gel slot that allows you to colour correct your flash, no flash diffuser has ever been this awesome.
Ideal for use as an on-camera diffuser or a small bounce card, the MagSphere instantly transforms the harsh light of your flash into a soft, omni-directional, bare-bulb light source.
It increases the size of your light-emitting surface by over 250% for a softer glow over a bigger area.
360 degrees of awesome.
The MagBounce is a gorgeous bounce modifier that has been stripped down to it's simplest, most functional form. We carefully designed it to not only be beautiful, but calculated to deliver the softest light with the highest output.
Direct light exactly where you want it. Via the awesome power of magnetism, you get 360 degrees of rotation in 4 different configurations.
You also get the flexibility to shoot in both landscape and portrait orientations.
Creative possibilities are stacking up.
The MagGel is the ultimate gel system for hot-shoe flashes, period. Lets face it, film based gels with velcro or tape just flat out suck, and the MagGel is designed to quickly and easily adapt gels to flashes in seconds.
MagMod Professional Flash Kit
What else is included in the box?
MagGrip
MagGrid
MagSphere
MagBounce
MagGel
Creative Gels include red, orange, yellow, green, blue, teal, purple, magenta.
" frameborder="0" allowfullscreen>
Offers: N/A
Offer Category: Studio Lighting
Offer Product Type: Flash Diffusers
Guide number: N/A
Mount: N/A
Pan/tilt Head: N/A
Zoom head: N/A
Height (mm): N/A
Length (mm): N/A
Width (mm): N/A
Weight (g): N/A
Weight (inc. batteries) (g): N/A
Notes: N/A
Existing Customer Login
If you are already a member, fill in the details below to login & view your account.
New Customer Signup
Create an account with Park Cameras
Register
Like New – The equipment is in a condition as if you have just bought it from the manufacturer. The item is still considered to be 'Like New' even without the original packaging. The product has been fully tested and is in perfect working order.
Excellent – The equipment should be close to being 'Like New' but there may be some small cosmetic blemishes that lower its grade. The product has been fully tested and is in perfect excellent order.

Cameras – Should have no marks on the LCD screen
Lenses – Should have no marks on the elements or dust within the lens

Very Good – The equipment may have some slight cosmetic wear to the paintwork and cosmetic blemishes with only light signs of use and the product has been fully tested and is in great working order.

Cameras – The LCD screen may have small signs of wear that does not affect its display
Lenses – The mount of the lens will start to show signs of wear

Good – The equipment is showing more obvious signs of cosmetic wear and blemishes, but the product has been fully tested and is in great working order.

Cameras – LCD screen may have scratches or wear that is starting to affect the display.
Lenses – May have slight dust inside that does not affect images. The mount shows signs of use.

Well Used – The equipment will show significant signs of wear. The paintwork will be coming away in large areas exposing the metal work, but the product has been fully tested and is in great working order.

Cameras – LCD screen is heavily worn either by de-lamination or has scratches to it. Rubber grips are starting to come away from the body.
Lenses – The lens has dust inside that may affect images. The rubber zoom/focus ring is coming away from the barrel of the lens.
?hl=en&cc_load_policy=0&loop=0&" >