This product has been discontinued.
Our suggested alternative products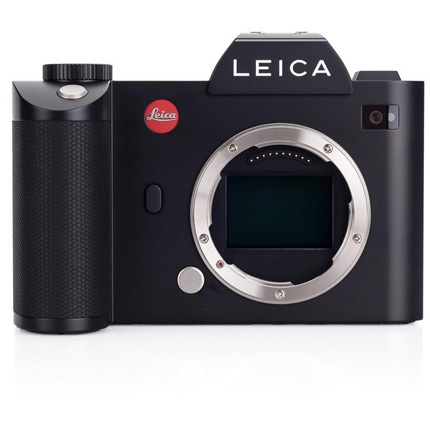 Leica SL (Typ 601) Mirrorless Digital Camera Black
The Leica SL (Typ 601) in black is a versatile mirrorless digital camera with a 24MP full-frame sensor, high quality 4.4MP electronic viewfinder, fast 11fps burst mode and 4K video recording.
view full description
Trade in bonus
Looking to trade in your camera equipment? Get a quote now! and get a bonus of up to £100
Product Code: L015470M
Leica SL (Typ 601) Mirrorless Camera
The Leica SL-System is the embodiment of the digital era in professional photography. As a mirrorless system camera with an electronic viewfinder and electronic shutter, the Leica SL impresses with versatility, ease of handling and robustness.
Its versatility is underlined by its maximized compatibility with lenses from other Leica systems. Discover the power of the moment. Discover the Leica SL-System.
Easy, reduced, functional - Leica professional
The Leica SL (Typ 601) represents the pinnacle of design and technology from Leica Camera and is the perfect tool for professionals. Featuring a full-frame, self-cleaning 24 megpixel CMOS sensor, the SL offers the highest possible image quality with the fewest compromises. An integrated 4.4 megapixel electronic viewfinder with 0.8x magnification gives a huge field of view and a bright, crisp overview of the scene. Auto focus speed is class-leading. As an interchangeable lens mirrorless camera, the SL is packed with advanced features such as full weather and dust sealing, a touch-screen rear LCD, Wi-Fi and GPS, dual SD card slots, 4k video, 11 fps burst rate and a versatile lens mount. In addition to the new line of full-frame Leica L lenses, the SL (Typ 601) accepts Leica TL-System lenses natively (and automatically crops to an APS-C mode). Leica M, S, R, and cine lenses can be mounted with various adapters.
With its full-frame CMOS sensor, the Leica SL sets new standards in professional camera systems category thanks to the combination of outstanding speed and unrivaled optical performance. With the fastest auto-focus in its class and the exceptional Leica image quality, photographers always achieve brilliant imaging results - in still images and in 4k video.
Made in Germany, the Leica SL is milled from aluminum and the Leica SL lenses have the water repellent Aqua Dura coating. In addition to the SL lenses, the Leica SL can be used with other Leica lenses (S, R, M, T & Cine PL mount) and 3rd party lenses via adapters even for video applications, making it ideal for any photographic situation.
Craftsmanship and Design
The body of the Leica SL is machined from two solid blocks of aluminum and hand-finished to create a unique piece of work. The material used in the construction of the Leica SL guarantees exceptional endurance. The Leica SL and its lenses are sealed against dust and water. This ensures that the SL system is reliable under the toughest conditions.
Video Recording
The Leica SL allows video recordings in FullHD & 4k for professional movie footage. It offers 1080p @ up to 120 fps, 4k (UHD) @ 30 fps & 4k (cine) @ 24 fps. The Leica SL records high-quality moving pictures on the internal SD cards in 4:2:0 8 bit. The HDMI delivers 4:2:2 10 bit for external recorders. With the PL Adapters, the cinematographer can use the Leica Summicron-C and Leica Summilux-C Cine lenses.
WiFi, SL App
The Leica SL has an integrated WiFi module.The Leica SL App is available as a free download from the Apple App Store or the Google Play Store The App allows the user to remotely control the camera via a phone or tablet. The user will be able to set the shutter speed and aperture and capture the scene via the tablet or phone. This makes it easy to shoot remotely from unusual angles.
24-megapixel full-frame CMOS sensor
The Leica SL has a 24-megapixel full-frame CMOS sensor. The newly developed processor from the Leica Maestro II series processes the data arriving from the sensor with such speed that it allows continuous shooting at a rate of 11 frames per second at full resolution, much faster than other comparable cameras.
Leica SL Lenses
The Leica SL lenses are full-frame AF lenses designed for professional needs. With the highest image performance at every aperture and distance, the new Leica SL autofocus is the fastest AF available for full-frame system cameras. The SL lenses are silent and offer precise AF. All SL lenses have an AquaDura hydrophobic coating on the outer lens elements. The lenses are sealed to protect from dust and water.
Product features in detail
Camera type:
Digital mirrorless
Lens mount:
Leica L-Mount
Applicable lenses:
Leica Vario-Elmarit-SL 24–90 mm f/2.8–4 ASPH.
Leica APO-Vario-Elmarit-SL 90–280 mm f/2.8–4
Leica Summilux-SL 50 mm f/1.4 ASPH.
Lenses from the Leica T Camera System, Leica M-Lenses with Leica M-Adapter T, Leica S-Lenses with
Leica S-Adapter L, Leica R-Lenses with Leica R-Adapter L and Leica Cine lenses with Leica PL-Adapter
L.
Sensor:
24-MP-CMOS-Sensor (24 x 36 mm)
Resolution:
Full Frame (24 map): 6000 x 4000 Pixel, APS-C (10
MP): 3936 x 2624 Pixel
Filter:
IR-Filter, no Lowpass Filter
ISO:
ISO 50–ISO 50000
Sensor Cleaning:
Ultrasonic self-cleaning CMOS sensor
Processor
Leica Maestro II series
Internal RAM:
2 GB: 33 DNGs or 30 JPEGs and DNGs
image Data Format:
JPEG, DNG
Color depth:
14 bit (DNG), 8 bit (JPEG)
JPEG:
Color Space Adobe RGB, ECI RGB, sRGB
Motion:
MP4, MOV
Resolution:
4K (4096 x 2160) @ 24 fps; 4K (3840 x 2160) @ 25 and
30 fps; 1080 @ 24, 25, 30, 50, 60, 100 and 120 fps;
720 @ 24, 25, 30, 50, 60, 100 and 120 fps

Bit rate:

8 bit (recording); 10 bit (HDMI not recording)
Color sampling:
4:2:2/10 bit (HDMI only); 4:2:0/8 bit (recording on SD
card)
Video:
V-Log L gamma selectable
Audio:
Manual/Auto; Stereo microphone, 48 kHz, 16 bit; Wind
elimination
Audio external via Audio-Adapter:
Audio-In (3.5 mm phone jack), Audio-Out (3.5 mm
phone jack)
Movie Length:
Max. duration: 29 min, Max. size: 4 GB

EVF
Resolution:

SXAG, 4.4 map

Size:
0.66"
Eye Point:
20 mm
Field of View:
37°
Magnification:
x 0.80 (With 50 mm lens at infinity, 1 dpt)
Frame coverage:
100 %
Diopter correction:
4 to +2
Eye Sensor:
Yes
Live View:
Operating Modes: Video- and Photo-Live-View
separated; Frame rate: up to 60 fps; Exposure simulation
available,
Optional information: Focus Peaking, Histogram,
Clipping/Zebra, Level, Grid Overlay (3 x 3, 6 x 4),
Aspect Ratio (1.33:1; 1.66:1; 1.78:1; 1.85:1; 2.35:1;
2.4:1), Safe Area (80 %; 90 %; 92.5 %; 95 %)
Storage:
SD 1 slot (UHS II) with maximum writing speed 100
MB/s, SD 2 slot (UHS I) with maximum writing speed
30 MB/s
focusing:
Contrast AF
Focus Modes:
AF-S (focus priority), AF-C (shutter priority), MF,
Touch-AF
AF Modes:
Static, Dynamic (tracking), Auto (face detection)
AF Size:
Point, Field, Zone (9 Fields)
AF Steps:
37 or 49 Fields
AF Assist Lamp:
Built in
Exposure Modes:
Program Mode (P), Shutter speed priority mode (T),
Aperture priority mode (A) and manual mode (M
Exposure metering Modes:
Center weighted, Multi zone, Spot
Exposure Compensation:
3 EV in 1/3 or 1/2 EV-steps
Exposure Bracketing:
3/5/7 images in 1/2/3 aperture steps; additional direct
JPEG-HDR
White Balance:
Preset Auto, Daylight 5200 K, Cloudy 6000 K, Shade
7000 K, Tungsten 3200 K, HMI 5600 K, Fluorescent
warm 4000 K, Fluorescent cool 4500 K, Flash 5400 K,
Greycard, Manual color temperature 2000 K to 11500 K
Shutter
Type:
Focal plane shutter, electronic shutter
Drive Modes:
Siangle, Continuous slow S (4 fps), Continuous medium
M (7 fps), Continuous fast F (11 fps), Self timer 2 s, Self
timer 12 s, Interval, Exposure Bracketing, Time
exposures up to 30 min
Shutter speed:
1/8000 s (1/16,000 with electronic shutter) to 60 s, time exposures up to 30 min, Max.
frame rate 11 fps,
Flash
Interface:
Standard X-jack, Hot shoe with Sync. and TTL-Mode
contacts
X-Synchronization:
1/250 s
Wi-Fi:
Built in, I 802.11 b/g/n (2.5 GHz)
GPS:
Built in, Automatic time and date, Sensitivity < 1°
Power supply:
reachargeable Lithium-Ion battery, Nominal voltage 8.4
V, Capacity at least 1860 mAh; Lifetime per charge
(CIPA):
approx. 400 shoots; Charging time: approx. 180 min;
Charger: 100–240 V 50/60 Hz 0.25 A with adapters
Touch Screen:
2.95" Touch Back light LED with Anti-fingerprint and
Anti-scratch coating; 1.04 Mio. pixels; Format 3:2;
View angle: 170°; Colors: 16 Million; Frame coverage:
100 %
Top Display:
1.28" highly reflective monochrome LCD; 128 x 128
dots; View angle 120°; Anti-fingerprint coating
Housing
Material:
Milled Aluminum
Dust/Spray water sealing:
Provided
Interfaces:
USB 3.0 Micro Type B; HDMI Type A; Multi connector
adapter for Audio-Out 3.5 mm/Audio-In 3.5 mm; Multi
Connector cable release; ISO accessory shoe with center
and control contacts for flash units; Standard X-jack;
Multifunctional interface in baseplate for optional
handgrip
Tripod thread:
A 1/4 DIN 4503 (1/4") with anti-twist locking pin
Dimensions/Weight:
147 x 104 x 39 mm (W x H x D)/
approx. 771/847 g (with/without battery)
Working conditions:
Approx. 0°– 40°C, max. 85 % humidity
Scope of delivery:
Camera body, Camera strap, Lens mount cap, Battery,
Battery Charger with international adapter, USB 3.0-cable, Manual, Warranty Card, Leica Lens cleaning
tissue
Software Included:
90 day trial subscription to Adobe Creative Cloud Photoshop & Lightroom
Remote Control (USB): Leica image Shuttle SL; Remote
Control (Wi-Fi): Leica SL app (Android/iOS)
Warranty:
2 years or 200,000 releases
Leica SL (Typ 601) Mirrorless Digital Camera Black Specifications
| | |
| --- | --- |
| Sensor Type | 5mm full frame CMOS |
| Megapixels | 4MP |
| ISO range | 50 - 50000 |
| Focus points | 59 |
| Continuous shooting | fps |
| Video resolution | Up to 4K |
| LCD screen | .95" |
| viewfinder | 0.66" 4.4MP eVF |
| Wireless connectivity | 80. b/g/n (.4GHz) |
| GPS | Yes |
| Lens compatability | SL and TL mount Lenses, Leica M, S, R, and Cne with adapters |
| Storage Type | SDxC UHS- |
| Dimensions | 47mm x 04mm x 9mm |
| Weight | 77g without battery, 847g wth |
Our Verdict
There are a lot of things you come to expect from a Leica camera, and obviously their premium branding commands certain expectations. The Leica SL has all of those fundamental Leica-isms. The build quality is extremely high, the styling is exceptional with barely a dial or button out of place, and the components are to the highest standard.
While looks aren't going to make great camera s, the Leica SL has plenty on board to prove that beauty is also skin deep. With a 35mm full frame 24 Megapixel CMOS sensor and Maestro II processor providing a 2 GB buffer to maximise image quality from a technical perspective, the SL mount lenses do it from an optical one.The ultra versatile 24-90mm f/2.8-4 is the first in the SL mount line up, with more on the way. Although the SL works with SL mount lenses, it is also compatible with Leica T lenses (activating a 10 Megapixel APS-C crop mode), and through the use of adaptors will work with Leica S, Leica R and the eponymous Leica M mount range of lenses.
EVFs are becoming more commonplace in digital photography, especially since the quality improvements through the years have justified their inclusion as a viable replacement for the standard optical variety. The Electronic viewfinder on the SL takes that argument up yet another notch by outputting a rather impressive 4.4-Million pixels to the eye of the beholder. The rear LCD still has its place, with the 2.95 inch one on the Leica SL having touch capabilities, and 170 degree tiltability.
Image capture is also bolstered by an autofocus system that at launch was touted as the fastest in a full-frame system camera , as well as 11 frame per second continuous shooting mode. Video capture is also packing some power in the form of 1080p capture at 120fps and 4K at 30fps.
Showpiece features are joined by a massive range of great functionality in the addition of integrated Wi-Fi and GPS, ultrasonic sensor cleaning, dual SD card slots, weather sealed body and a whole host of accessories tailor made for this aesthetically delightful camera .
We Love
Full frame + Mirrorless + Interchangeable lenses + Leica = this camera
Styling and build quality are what you expect to see in a Leica
A premium mirrorless is going to require a premium EVF; the Leica SL has THE premium EVF
Existing Customer Login
If you are already a member, fill in the details below to login & view your account.
New Customer Signup
Create an account with Park Cameras
Register
Like New – The equipment is in a condition as if you have just bought it from the manufacturer. The item is still considered to be 'Like New' even without the original packaging. The product has been fully tested and is in perfect working order.
Excellent – The equipment should be close to being 'Like New' but there may be some small cosmetic blemishes that lower its grade. The product has been fully tested and is in perfect excellent order.

Cameras – Should have no marks on the LCD screen
Lenses – Should have no marks on the elements or dust within the lens

Very Good – The equipment may have some slight cosmetic wear to the paintwork and cosmetic blemishes with only light signs of use and the product has been fully tested and is in great working order.

Cameras – The LCD screen may have small signs of wear that does not affect its display
Lenses – The mount of the lens will start to show signs of wear

Good – The equipment is showing more obvious signs of cosmetic wear and blemishes, but the product has been fully tested and is in great working order.

Cameras – LCD screen may have scratches or wear that is starting to affect the display.
Lenses – May have slight dust inside that does not affect images. The mount shows signs of use.

Well Used – The equipment will show significant signs of wear. The paintwork will be coming away in large areas exposing the metal work, but the product has been fully tested and is in great working order.

Cameras – LCD screen is heavily worn either by de-lamination or has scratches to it. Rubber grips are starting to come away from the body.
Lenses – The lens has dust inside that may affect images. The rubber zoom/focus ring is coming away from the barrel of the lens.