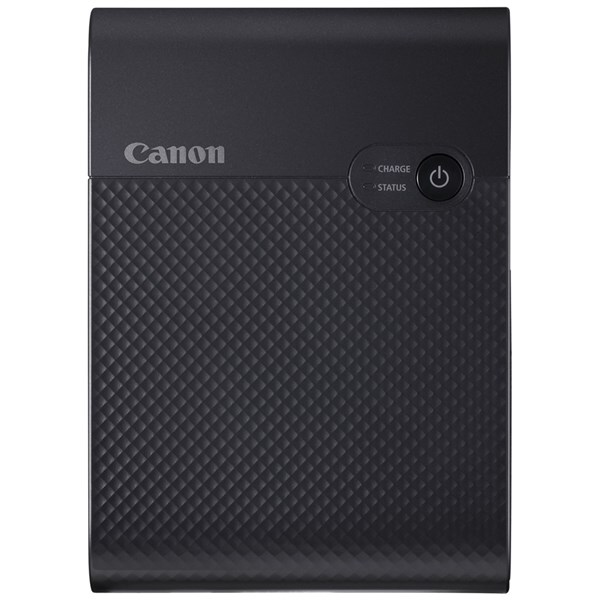 Canon SELPHY SQUARE QX10 Photo Printer
The Canon SELPHY SQUARE QX10 produces high-quality, dye based prints, direct from a smartphone, with a longevity of up to 100 years. Wi-Fi connectivity ensures prints are available wherever you are.
view full description
Product Code: 1160381B
Canon SELPHY SQUARE QX10 Photo Printer summary
Convenience and portability comes to the SELPHY printer line in the form of the new QX10. Ease-of-use is the printer's main feature, with seamless connectivity between printer and a smartphone. Being battery-powered and of a compact size means high-quality prints can be produced anywhere, useful for the office to events.
Brand-new paper is also available for ever higher quality 68 x 68 mm (2.7x2.7 in) prints, which can be customised via the included SELPHY Photo Layout app. for adding personalised touches to every print such as stamps, filters, borders, text, overlays and layouts.
To match your environment or tastes, the printer also comes in four cool colours. Perfect for those who like to print while on the move.
Dye Sublimation Printing - For vibrant, smooth and rich images
Portable and Battery Powered - Small enough to fit in a handbag or backpack
XS-20L Square Photo Paper - Print square images and stickers that have a writable border
100 Year Print - Prints will remain high quality up to100 years
Wi-Fi - Connect easily between smartphone and printer
USB Charging - Conveniently charge with USB cable
SELPHY Photo Layout app - Add stamps, filters, borders, text and more
Canon SELPHY SQUARE QX10 Photo Printer in detail
rich and detailed images are standard from the Canon SELPHY SQUARE QX10, along with print anywhere functionality. Thus, being one of the best solutions for those who want convenient printing, while also maintaining high quality.
There have been printing solutions in the past which have been portable, have internal connectivity and produce high quality prints, but rarely in the same package. Canon brings their vast printing experience to this solution, especially aimed at those who want quality prints in a seamless manner. Memories can be preserved in rich detail and colour for many different uses, such as events, weddings, scrapbooks, pinboards or anywhere else you wish to treasure a memory. The Dye-sublimation thermal transfer printing system(287 x 287 dpi) is also high-quality enough for images to last up to 100 years.
Weighing in at approximately 445g, excluding ink cartridge and labels, with dimensions of 102.2 x 143.3 x 31.0 mm, the SELPHY SQUARE QX10 is conveniently sized to fit into a small carry bag or similar for easy transportation. The internal battery can also be recharged via the USB Micro B connector to USB Type-A connector.
Connectivity to the SELPHY SQUARE QX10 is vitally important, having built in Wi-Fi, which can seamlessly connect to a smartphone. The included SELPHY Photo Layout app. can then be used to add additional layout options or expand your creativity with features including stamps, filters, borders, text, overlays and layouts. Printing via the app. provides a wide array of printing possibilities, with the simplest being the printing of a single image, with simple on-screen options for choosing paper size, borders and a black or white background. N-up Layout provides a convenient way to arrange up to 8 images, while Bookmark Layout, Shuffle, Combination and Label are easy ways to produce layouts with multiple images.
XS-20L Square Photo Paper can also be used to print square images and stickers, with the option of a writable border.
The printing system includes 3 colour inks (yellow, cyan, magenta), with an additional protective over coating, producing 256 levels of colour and a 24 bit colour depth. Printing has been further enhanced with brand-new paper, printed to the size of 68 x 68 mm (2.7x2.7 in). Images can also be produced with a captioned border to further personalise each image.
Specifications
Dye Sublimation Printing
Portable and Battery Powered
XS-20L Square Photo Paper
100 Year Print
Wi-Fi
USB Charging
SELPHY Photo Layout app
Optional Accessories
Canon KP-36IP Colour Ink/Paper 36 sheets for Selphy CP Printers
Canon PCC-CP400 Paper Cassette
Canon DCC-CP2 Carrying Case for Selphy Printer
Our Verdict
The features that stand out the most on the SELPHY SQUARE QX10 are the compact and portable size, along with the convenience of being battery powered. The printer can also be charged via USB. Printing can now be done anywhere, with seamless connection to a smartphone, which also benefits from the included SELPHY Photo Layout app. for enhancing image layouts.
Setting up the printer is a breeze and the first few prints show that the dye based system produces very detailed and rich prints, with a choice of papers available. The 68 x 68 mm (2.7x2.7 in) prints are large enough to show plenty of detail and definition, while being of an adequate size to be used at events, such as weddings or children's parties for applications such as a selfie wall or as a simple, fun printing solution.
The option to be able to produce a writable border, with different layout designs, allows images to be further customised with a more personal approach. As a simple and straightforward printing solution, you can't get much better than the SELPHY SQUARE QX10 for convenience, while also producing very high-quality prints.
We Love
Four cool colours to further enhance the street credibility of the printer.
A simple way to print from a smartphone.
Rich, high-quality prints, reminiscent of larger printers.
The included app. producing more advanced photo layouts.
Battery-powered to allow printing absolutely everywhere.
Existing Customer Login
If you are already a member, fill in the details below to login & view your account.
New Customer Signup
Create an account with Park Cameras
Register
Like New – The equipment is in a condition as if you have just bought it from the manufacturer. The item is still considered to be 'Like New' even without the original packaging. The product has been fully tested and is in perfect working order.
Excellent – The equipment should be close to being 'Like New' but there may be some small cosmetic blemishes that lower its grade. The product has been fully tested and is in perfect excellent order.

Cameras – Should have no marks on the LCD screen
Lenses – Should have no marks on the elements or dust within the lens

Very Good – The equipment may have some slight cosmetic wear to the paintwork and cosmetic blemishes with only light signs of use and the product has been fully tested and is in great working order.

Cameras – The LCD screen may have small signs of wear that does not affect its display
Lenses – The mount of the lens will start to show signs of wear

Good – The equipment is showing more obvious signs of cosmetic wear and blemishes, but the product has been fully tested and is in great working order.

Cameras – LCD screen may have scratches or wear that is starting to affect the display.
Lenses – May have slight dust inside that does not affect images. The mount shows signs of use.

Well Used – The equipment will show significant signs of wear. The paintwork will be coming away in large areas exposing the metal work, but the product has been fully tested and is in great working order.

Cameras – LCD screen is heavily worn either by de-lamination or has scratches to it. Rubber grips are starting to come away from the body.
Lenses – The lens has dust inside that may affect images. The rubber zoom/focus ring is coming away from the barrel of the lens.