This product has been discontinued.
Our suggested alternative products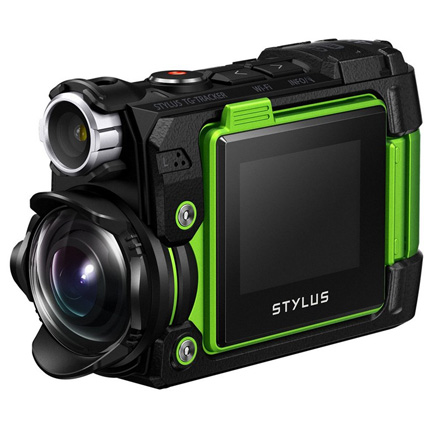 Olympus Tough TG-Tracker Green - Ex Demo
Olympus Tough TG-Tracker Green - Ex Demo
view full description
Product Code: 4013965GEX
Park Picks 2017 Highly Commended: Best Action Camera - Ex Demo
Olympus have been a steady supplier of the rugged action camera in recent years, and with the Tough TG-Tracker managed to include some pretty cool features in a very small package.
Keeping up with modern standards by including 4K video capture at 30p, including in-body stabilisation to smooth out that rough and ready action and making it a whole load of -proofs.
Waterproof up to 30m and with an underwater detector that adjusts settings to optimise capture, this is a really good addition to the scuba set's kit bags, and dependent on those conditions down there may also benefit the user with its 60 lumen spotlight. You know, just so you can see that really scary fish following you on your adventures.
When I think about the Olympus range of Tough cameras I tend to think of the words "double hard" to describe them - as they are built to purely withstand the worst that we can throw at it. Now we just have to be brave enough to do everything that it's suitable for....
For a full list of winners and highly commended products take a look here - Park Picks 2017
Olympus Tough TG-Tracker Action Camera In Green SUMMARY
Super-rugged action camera
20 megapixel sensor
TruePic VII image processor
4K 30p and 1080p video up to 60p
Ultra wide-angle lens captures a 204° field of view
5-axis image stabilisation
Flip-out LCD monitor
Time lapse still photography function
Includes detachable selfie mirror, detachable grip, and essential lens and underwater protection
Tracking and field-logging features with App Olympus Image Track Ver 2.0
Browse images and related log data together, in split-screen mode
Shockproof to 2.1 metres, crushproof to 100kg, dustproof, freezeproof to -10°C, and waterproof to 30 metres below sea level*
Underwater detector automatically switches to optimal settings
Up to 60 lumen spotlight
Acceleration, altitude, depth, temperature, direction of movement, latitude, and longitude sensors
Wi-Fi connectivity
Enhanced battery life
Compatible with many third party accessories, mounts, and harnesses
Free 6 month warranty extension**** when registered via the MyOlympus online platform
Olympus Tough TG-Tracker Action Camera In Green FEATURES
Super-rugged and ultra-flexible, Olympusbrilliant new action camera adds tracking data to help improve your performance.
Ten years after Olympus first sealed its serious imaging expertise inside a super-rugged casing, the Olympus Tough TG-Tracker takes the all-action field log camera to new heights and depths. While conventional action cameras convince in one area but fail in another - like image quality, shot selection, or battery life - the Tough TG-Tracker excels across the board. It combines the imaging power of Olympushigh-end camera technology with the go-anywhere build quality that comes with a decade of category-leading outdoor expertise. For fans of extreme sports, that makes a big difference: instead of recording a rough impression of what they really saw, they capture a really impressive record of what they saw when things got rough.
The TG-Tracker has a detachable grip, ultra-wide angle lens, 5-axis image stabilisation, and a flip-out LCD monitor - so you can easily frame and shoot blur-free, by hand, and in harsh conditions. You aren't limited to mounting the camera on your equipment. Given the TG-Tracker's comprehensive new tracking and field-logging capabilities, the result is a more gripping, higher quality way to relive and share intense moments - like a sky or scuba dive, kite surfing jump, or wild-water ride in a bucking canoe. Using the free App Olympus Image Track Ver 2.0, owners can review outdoor adventures with all the information they need to bring the physical challenge to life: altitude or depth, air or water temperature, geo-location and direction and speed of movement. The new TG-Tracker is compatible with many harnesses and mounts for all sorts of outdoor and sports equipment (adapter supplied).
Go anywhere, record everything
The new Olympus TG-Tracker has what it takes to hit the ground running. Literally. This camera is ready to record in the harshest environments without added protection. It is shockproof to a height of 2.1 metres, crushproof to a weight of 100kg, dustproof, freezeproof down to -10°C, and waterproof down to 30 metres below sea level*. In addition to possessing Olympusexcellent image quality and its wide-angle, handheld framing flexibility, it also has another dimension that makes sure it stands out among other outdoor still and video cameras: its five sensors. Unlike products with regular geotagging, the TG-Tracker can sense acceleration, altitude, or depth and temperature as well as direction of movement - in addition to latitude and longitude. This gives extreme sports enthusiasts a much fuller picture of where they were, what was happening, and how they were performing at the moment any given image was captured.
For example, when they review footage on their smartphone, scuba divers can see at a glance at what depth, water temperature, and distance from the entry point they encountered a spectacular fish or species of coral. The camera even logs changes in G force - like a parachute opening or the takeoff and landing that bookend a snowboarder's 360 - then tags the chapter for easy retrieval.
The TG-Tracker lets owners focus on the immediate challenge and thrill, while it's capturing all the key data. By showing images and details in context in the new and free Olympus Image Track App (OI.Track) - such as where a photo was taken on a realistic depth/time profile of a scuba dive - five-sensor tracking makes reviewing and sharing extreme activities all the more fascinating, and more intense. This isn't just lifelogging, it's energising logging of a real-life adventure.
Olympus image quality guaranteed
Tough TG-Tracker owners benefit from Olympushigh-end imaging know-how, and a camera that out-performs similarly priced rivals in many ways - from 5-axis image stabilisation for video and the performance of the replaceable battery, to the flip-out colour LCD for framing and reviewing the action. What's more, its ultra-wide lens captures a 204° field of view that often reveals peripheral details the owner hasn't even seen. Additionally, the TG-Tracker records 4K video** with ease, powered by the same TruePic VII image processor found in several high-end Olympus interchangeable-lens cameras.
Underwater, the camera automatically adjusts white balance and other settings, and there is an up to 60 lumen spotlight for shooting when it would otherwise be too dark. The supplied grip extension and built-in mirror mean owners can hold their camera how they want and make it as easy to shoot selfies, such as over a cliff edge or - using a compatible mount or harness - completely hands-free. Alternatively, for full-length selfies with a big group and all the gear, they can operate the camera remotely from a phone with OI.Share installed - another of Olympusfree apps.
Olympus Image Track software supplied
Reviewing footage is where the TG-Tracker really comes into its own - and the images and data recorded come vividly to life - either as high-resolution 4K video on a full-size TV or on a smartphone equipped with the new version of the free Olympus OI.Track App. Transferring stills and video** to the phone is simple via Wi-Fi. OI.Track offers owners a variety of features and settings, but the most important is the option to browse images and related log data together, in split-screen mode. The log for each clip or still can be viewed from two perspectives: as a bird's-eye map, or as a chart plotting depth/altitude against time. By comparing past logs stored in the app, it's easy to calculate distance covered, speed, and other variables - which is great motivation to push the limits further next time. Like every Olympus lens and camera, the TG-Tracker comes with a free six-month warranty extension**** when registered via the MyOlympus online platform.
* Waterproof according to IEC standard publication 529 IPX8. Shockproof figures equivalent to MIL Standard (Olympus test conditions). Freezeproof and crushproof according to Olympus test conditions.
** 4K videos cannot be transferred to a smartphone, but can be streamed to a TV.
*** Images cannot be recorded while the camera is inside the Tracking Holder.
**** Six months on top of the statutory warranty in the country of purchase.
What else is included in the box?
UP-T01 Underwater Protector for precise focusing underwater without the potential to scratch the lens
LP-T01 Lens Protector for closer, scratch-free shooting above sea level
MC-T01 Mount Coupling with selfie-mirror for attaching the SG-T01 Steady Grip and compatible with numerous 3rd party accessories
SG-T01 Steady Grip for shooting stable stills and video in unstable situations (includes tripod interface)

Optional Accessories
Olympus CSCH-125 Tracking Holder*** for carrying the TG-Tracker on a harness at waist or shoulder height, and logging data hands-free
Existing Customer Login
If you are already a member, fill in the details below to login & view your account.
New Customer Signup
Create an account with Park Cameras
Register
Like New – The equipment is in a condition as if you have just bought it from the manufacturer. The item is still considered to be 'Like New' even without the original packaging. The product has been fully tested and is in perfect working order.
Excellent – The equipment should be close to being 'Like New' but there may be some small cosmetic blemishes that lower its grade. The product has been fully tested and is in perfect excellent order.

Cameras – Should have no marks on the LCD screen
Lenses – Should have no marks on the elements or dust within the lens

Very Good – The equipment may have some slight cosmetic wear to the paintwork and cosmetic blemishes with only light signs of use and the product has been fully tested and is in great working order.

Cameras – The LCD screen may have small signs of wear that does not affect its display
Lenses – The mount of the lens will start to show signs of wear

Good – The equipment is showing more obvious signs of cosmetic wear and blemishes, but the product has been fully tested and is in great working order.

Cameras – LCD screen may have scratches or wear that is starting to affect the display.
Lenses – May have slight dust inside that does not affect images. The mount shows signs of use.

Well Used – The equipment will show significant signs of wear. The paintwork will be coming away in large areas exposing the metal work, but the product has been fully tested and is in great working order.

Cameras – LCD screen is heavily worn either by de-lamination or has scratches to it. Rubber grips are starting to come away from the body.
Lenses – The lens has dust inside that may affect images. The rubber zoom/focus ring is coming away from the barrel of the lens.