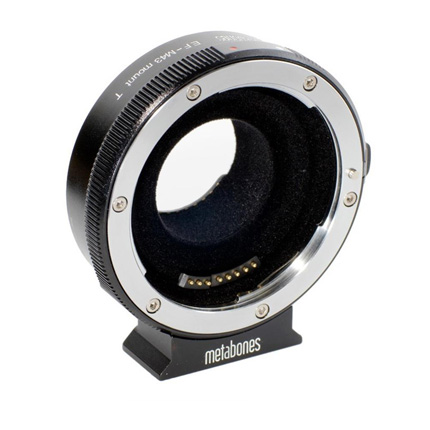 Metabones Canon EF Lens To Micro Four Thirds Camera T Smart Adapter
The Metabones Canon EF Lens to Micro 4/3 Camera T Smart Adapter supports electronic functions including autofocus, EXIF data, optical stabilisation as well as smooth iris support for Cine lenses.
view full description
Product Code: M245463N
£339.00
Finance available - See options
Use your Canon EF lenses on a Micro Four Thirds body
Features:
Electronic
Auto focus on Panasonic Mirco Four Thirds cameras
Can be powered either by camera body or by third-party external 5V power source (not included)
Iris/aperture controlled by the camera body.
Image stabilization (IS) lens support
Electronic manual focusing (e.g. EF 85/1.2L II and discontinued EF 50/1.0L)
EXIF (focal length, aperture, zoom range)
Distance and zoom display on camcorders (requires lenses supporting distance information)
Other
Detachable tripod foot compatible with Arca Swiss, Markins and Photo Clam ball heads.
Flocking material coating inside the opening to reduce internal reflection.
Supports EF-S lenses.
Why Metabones?
Since its inception, Metabones has been designing and manufacturing lens adapters recognized among professionals and enthusiasts as leaders in design and workmanship.
Contrary to the popular trend of other factories using an aluminum ring painted black on the camera-body-side, we instead take no short-cut but use precision-machined brass with chromium plating on both the camera-body and the lens sides of our adapters, in order to ensure smooth mounting, great appearance, and durability. The lens side of the adapter features a strong leaf-spring structure, strengthening the adapter-lens connection and ensuring tightness of the lens in order to reduce wear and prevent focus errors and optical alignment issues from appearing.
Metabones uses matte-black treatment to keep internal reflection to a minimum in order to maintain the maximum optical quality possible with the lens.
All Metabones Adapters follow this tradition of uncompromising precision, robust build quality and outstanding finish. Our new Smart AdapterTM series of products add industry-leading electronic interfacing technology from Canada, with true electronic control of the lens' aperture directly from the camera body.
Features
Both camera-side and lens-side of the adapter are made of brass, precision-machined and plated with chromium.
Satin surface finish - just like your OEM lens and camera mounts.
Precise fit and solid connection - lens has no play, gap or wiggling when mounted on adapter and no adjustments are required to fit your lens.
Designed to reach infinity focus while maintaining the correct registration distance required to maintain optical quality of CRC lenses or lenses with floating elements.
Our Smart AdapterTM series adapters have the following additional features
True electronic integration of aperture diaphragm - let camera automatically choose aperture in P or S exposure modes, or dial in yourself on the camera body in A or M modes.
EXIF data such as lens identification, focal length and aperture.
Offers: N/A
Offer Category: Camera Lenses
Offer Product Type: Conversion Lenses
Autofocus: N/A
Aperture ring: N/A
Constant Aperture: N/A
Lens CIPA Image stabilization rating: N/A
Colour: N/A
Diameter (mm): N/A
Length (mm): N/A
Weight (g): N/A
Distance scale: N/A
DoF scale: N/A
Elements: N/A
Environmental Sealing: N/A
Focus distance limiter: N/A
Focal length: N/A
Focus method: N/A
Filter Thread: N/A
Full time manual: N/A
Groups: N/A
Hood supplied: N/A
Lens Image stabilization: N/A
Lens mount: N/A
Lens Materials: N/A
Maximum focal length: N/A
Maximum magnification: N/A
Maximum aperture (number): N/A
Maximum aperture (text): N/A
Max Format size: N/A
Minimum focal length: N/A
Lens Minimum focus distance (m): N/A
Minimum aperture (number): N/A
Minimum aperture (text): N/A
Motor type: N/A
Number of diaphragm blades: N/A
Power zoom: N/A
Special elements / coatings: N/A
Tripod collar: N/A
Lens type: N/A
Zoom lock: N/A
Zoom method: N/A
Notes: N/A
Existing Customer Login
If you are already a member, fill in the details below to login & view your account.
New Customer Signup
Create an account with Park Cameras
Register
Like New – The equipment is in a condition as if you have just bought it from the manufacturer. The item is still considered to be 'Like New' even without the original packaging. The product has been fully tested and is in perfect working order.
Excellent – The equipment should be close to being 'Like New' but there may be some small cosmetic blemishes that lower its grade. The product has been fully tested and is in perfect excellent order.

Cameras – Should have no marks on the LCD screen
Lenses – Should have no marks on the elements or dust within the lens

Very Good – The equipment may have some slight cosmetic wear to the paintwork and cosmetic blemishes with only light signs of use and the product has been fully tested and is in great working order.

Cameras – The LCD screen may have small signs of wear that does not affect its display
Lenses – The mount of the lens will start to show signs of wear

Good – The equipment is showing more obvious signs of cosmetic wear and blemishes, but the product has been fully tested and is in great working order.

Cameras – LCD screen may have scratches or wear that is starting to affect the display.
Lenses – May have slight dust inside that does not affect images. The mount shows signs of use.

Well Used – The equipment will show significant signs of wear. The paintwork will be coming away in large areas exposing the metal work, but the product has been fully tested and is in great working order.

Cameras – LCD screen is heavily worn either by de-lamination or has scratches to it. Rubber grips are starting to come away from the body.
Lenses – The lens has dust inside that may affect images. The rubber zoom/focus ring is coming away from the barrel of the lens.