This product has been discontinued.
Our suggested alternative products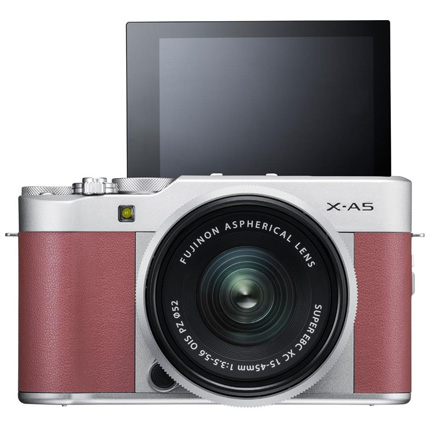 Fujifilm X-A5 Mirrorless Camera With XC 15-45mm Lens Pink/Silver
In this pink and silver colour combination the Fujifilm X-A5 mirrorless digital camera with XC 15-45mm lens oozes retro chic, but also sports a new C-MOS sensor, 4K movie capability and Bluetooth.
view full description
Product Code: 2011513P
Fujifilm X-A5 Mirrorless Camera (Pink) + XC 15-45mm Lens (Silver) Summary
Fujifilm X-A5 Mirrorless Digital Camera in Pink
The smallest and lightest mirrorless camera in Fuji's X-Series line-up, the X-A5 is a fully connected, retro styled, 4K video recording, powerful camera built around a newly developed 24.2 megapixel APS-C sized sensor. Paired with the newly developed XC 15-45mm f/3.5-5.6 OIS PZ Fujinon lens, and now sporting Bluetooth technology for easy image transfer, the Fujifilm X-A5 is a stylish mirrorless camera that gives you the confidence to use it every day.
Newly developed 24.2 megapixel APS-C CMOS sensor
Hybrid AF phase detection autofocus system
Newly developed image processing engine for 1.5x faster processing
4K movie recording & High speed HD movies at
4K Burst Function at 15 frames per second
180-degree tilting rear LCD screen with Selfie Mode
Touchscreen uses new intuitive fingertip operation
Standard ISO range to ISO 12,800
Exposure compensation from -5.0EV to +5.0EV
Retro and stylish design
11 Film Simulation Modes & 17 Advanced Filters
Bluetooth Low Energy technology
Wi-Fi connectivity
Compatible with Fujifilm Instax SP-3 Printer
Weighs only 496g with the XC 15-45mm lens
Battery life up to 450 images
Fujifilm XC 15-45mm f/3.5-5.6 OIS PZ Lens
The Fujinon XC 15-45mm f/3.5-5.6 OIS PZ lens is the smallest and lightest lens created for Fuji's X-Series mirrorless camera range and weighs in at only 135g. Sporting an advanced optical design and compact body, with a smooth electric zoom, wide angle of view, and close-up performance to as little as 5cm from the lens, this lens gives photographers the ability to shoot in a wide variety of situations.
Outstanding colour reproduction technology
Equivalent to 23-69mm focal length in 35mm terms
Smallest and lightest interchangeable lens for the X-Series
Only 44.2mm deep and weighs 135g
Incorporates 10 lenses in 9 groups
Three aspherical lenses & two ED lenses
Wide-angle to mid-telephoto zoom lens
Minimum focusing distance of just 5cm
Maximum reproduction ratio of 0.24
Image stabilisation for handheld photography
Stepping motor for quick & quiet autofocus
Fujifilm X-A5 Mirrorless Camera (Pink) + XC 15-45mm Lens (Silver) - Features in Detail
Fujifilm X-A5 Mirrorless Digital Camera in Black
Combining a newly-developed sensor and colour reproduction technology that has been refined over 80 years to deliver premium quality portraiture
The X-A5 combines a newly developed 24.2 megapixel APS-C sensor with the image processing engine to achieve Fujifilm's renowned photo quality. Combined with the supplied Fujinon lens, the camera boasts ultimate image resolution, recording the subject's texture, form and even the atmosphere of the scene. The camera outperforms previous models in its scene recognition accuracy in SR+ AUTO mode, colour reproduction performance, and "skin tone reproduction" capability. This makes the X-A5 the perfect choice for photographing human subjects, which account for approximately 50% of all subject matter. The regular range of ISO sensitivity has also been extended to ISO 12800. Camera shake and noise are reduced in low light conditions and when shooting a fast-moving subject for enhanced image quality. The X-A5 is the first X-A Series model to feature phase detection pixels, originally developed for the X series' high-end models. The Intelligent Hybrid AF system focuses twice as fast as previous models, ensuring that you capture those photographic moments more swiftly and beautifully.
Newly-developed compact and lightweight wide-angle zoom lens and new user interface for ease of operation
The X-A5 debuts the new Fujinon XC 15-45mm f/3.5-5.6 OIS PZ, the first electric-powered zoom lens for the X Mount. This lightweight and compact zoom makes the photographic experience easier and more comfortable than ever before. The lens has the minimum working distance of just 5cm, ideal for clear close-up shots, such as food photography. The smooth electric-powered zooming mechanism that starts from the wide-angle 23mm end (35mm film format equivalent) gives greater freedom in composition framing for both still images and video.
The X-A5 is equipped with a large rear LCD monitor that can rotate 180 degrees. When the panel is rotated 180 degrees, the Rear Command Dial automatically switches to the Zoom and Shutter Release function for fail-safe composition when shooting self-portraits. The 180-degree rotation of the rear LCD monitor also activates the Eye AF function automatically to create high quality self-portraits with sharp focus on the subject's eyes. The Portrait Enhancer Mode, offers its popular ability to produce beautiful skin tone, and has also evolved with the new user interface. Users can select from three levels of skin tone enhancement with touch-screen operation for easy, natural, and flattering self-portraits.
Artistic expression made easy, with Film Simulation Modes and New Bluetooth technology for quick and easy image transfer
The X-A5 offers 11 variations of Fujifilm's unique Film Simulation Modes, making adding an advanced artistic flair easy with the reproduction of film-like colour tones. The camera also features 17 variations of Advanced Filters including the new "Fog Remove" and "HDR Art."
The rear LCD monitor uses the new touch-panel user interface, facilitating intuitive touch-panel operation using fingertips so that you can check the effect of Advanced Filters and Film Simulations for added usability.
The Exposure Compensation Dial now has the range expanded from 3EV to 5EV to boost freedom in photographic expressions.
The Bluetooth Low Energy technology has been incorporated for quick, easy, and automatic transfer of still images and videos to paired smartphones and tablet devices, using the free smart-device app "Fujifilm Camera Remote". The camera is also compatible with Fujifilm Instax SP-3 printer, so users can enjoy the fun of printing and sharing their images more than ever before.
Broader range of videography with 4K video capabilities
The X-A5 offers a High-Speed HD Video function, allowing users to record HD video up to quad speed for slow motion clips. The Multi Focus Mode automatically stacks 4K quality images, whilst cleverly changing the depth of field setting required. Also provided is the 4K Burst function of shooting 15 frames per second in 4K image quality. These new 4K video capabilities and accompanying functions enable artistic expressions of greater creativity.
Class-leading battery life
The use of energy-saving design means the X-A5 now offers the class-leading number of frames per charge. Users can shoot as many as 450 frames per single battery charge, making the camera ideal for travelling and photography on the move.
The perfect partner to the Instax Share SP-3 Printer
Thanks to the X-A5's latest Bluetooth technology, the camera is the ideal companion to the Share SP-3 printer, the first square format printer to join the iconic Instax range. Over recent years, the desire for nostalgia has risen, as young people move to take their memories offline and into a physical format to last a lifetime. The new X-A5 and the Share SP-3 are the perfect partnership to do so, as users can select their favourite moments from the camera and turn them into something immediately tangible.
Fujifilm XC 15-45mm f/3.5-5.6 OIS PZ Lens
Smaller and more lightweight than any other interchangeable zoom lens within the X Series camera range
The composition of 10 lenses in 9 groups, including three aspherical lenses and two ED lenses, provides excellent resolution at all zoom positions, while measuring just 44.2mm long and weighing only 135g.
Covers frequently used focal lengths
This new lens covers the frequently used focal length from 23mm to 69mm (in 35mm equivalent) which makes it a suitable lens for shooting both landscape and portrait photography. Because the wide-angle end is equivalent to 23mm, this lens will be suitable for capturing self-portraits featuring multiple people or backgrounds when using with a camera with a 180 degree tilting LCD screen, such as the new X-A5.
Ability to shoot close-up, 5cm from the lens tip
Using the widest angle position, the lens allows photographers to shoot subjects which are around 5cm from the end of the lens, achieving a maximum reproduction ratio of 0.24. This lens is ideal for those wanting to take close-up shots of food, flowers, or small accessories.
Electric zoom and comfortable operation
Creating a small, collapsible lens has been made possible by utilising an electric zoom. When the camera is switched on, the lens automatically extends ready for shooting. Two different zoom speeds can be selected by the rotating of the zoom ring. The lens moves position at a constant speed, producing smooth zooming motion when shooting movies.
Optical image stabilisation
The electric zoom includes 3.0-stop optical image stabilization technology compatible with CIPA guidelines, which assists photographers shooting in low light conditions.
Fast and silent autofocus
The inner focusing AF system uses a stepping motor to drive lightweight focusing elements for a fast and silent autofocus performance.
Our Verdict
For everyday photography, the stylish and retro Fujifilm X-A5 is a dream camera. Utilising the optimally sized 24.2 megapixel APS-C CMOS sensor and benefitting from Fujifilm's renowned colour reproduction ability, the X-A5 sports a newly developed image processing engine with 1.5x faster processing and delivers outstanding image quality considering it's the smallest and lightest mirrorless camera in the Fujifilm X-Series.
Not only does the 3.0 inch LCD touchscreen on the Fujifilm X-A5 flip up 180-degrees, making it perfect for vlogging and selfies, but it also comes with a newly developed intuitive user interface with fingertip operation. Additionally, the X-A5 now comes with 4K video, an improved ISO range, improved low light operation (now capturing images down to -5.0EV), Bluetooth Low Energy connectivity, and an improved battery life.
We Love
Newly developed 24.2 megapixel APS-C CMOS sensor & improved processing engine
4K movies & 4K still image burst function at 15 frames per second
Intuitive fingertip operation 3.0 inch LCD touchscreen with 180-degree tilting
Perfectly paired with the Fujinon XC 15-45mm lens
Retro and stylish design
Existing Customer Login
If you are already a member, fill in the details below to login & view your account.
New Customer Signup
Create an account with Park Cameras
Register
Like New – The equipment is in a condition as if you have just bought it from the manufacturer. The item is still considered to be 'Like New' even without the original packaging. The product has been fully tested and is in perfect working order.
Excellent – The equipment should be close to being 'Like New' but there may be some small cosmetic blemishes that lower its grade. The product has been fully tested and is in perfect excellent order.

Cameras – Should have no marks on the LCD screen
Lenses – Should have no marks on the elements or dust within the lens

Very Good – The equipment may have some slight cosmetic wear to the paintwork and cosmetic blemishes with only light signs of use and the product has been fully tested and is in great working order.

Cameras – The LCD screen may have small signs of wear that does not affect its display
Lenses – The mount of the lens will start to show signs of wear

Good – The equipment is showing more obvious signs of cosmetic wear and blemishes, but the product has been fully tested and is in great working order.

Cameras – LCD screen may have scratches or wear that is starting to affect the display.
Lenses – May have slight dust inside that does not affect images. The mount shows signs of use.

Well Used – The equipment will show significant signs of wear. The paintwork will be coming away in large areas exposing the metal work, but the product has been fully tested and is in great working order.

Cameras – LCD screen is heavily worn either by de-lamination or has scratches to it. Rubber grips are starting to come away from the body.
Lenses – The lens has dust inside that may affect images. The rubber zoom/focus ring is coming away from the barrel of the lens.