Park Cameras Local Charity
Every year, Park Cameras look to support a local cause at the heart of the community. This year we are supporting St Peter and St James Hospice in their 40th Anniversary year, and it is a local charity that many of the staff at Park Cameras feel particularly strong about.
For 40 years, St Peter & St James Hospice has provided specialist care for thousands of people in Mid-Sussex, covering Burgess Hill, Haywards Heath, Lewes, Uckfield and the surrounding villages. Many of us are living longer and more of us are likely to be diagnosed with a life-limiting illness at some point. This means the demand for hospice services is growing each year, as has the range and depth of services that St Peter & St James Hospice patients and their families need.
All of their Hospice services are free of charge to patients and their loved ones. St Peter & St James Hospice rely on fundraising from the local community for 86% of their funds as they receive less than 14% of their funding from the Government and have to raise more than £2.6 million every year through fundraising. That's £7,200 every single day.

Catch that Employee!

On Thursday 29th January, staff at Park Cameras attempted to run between both our stores in Burgess Hill and Central London in a single day, in an effort to raise as much money as possible. From kind donations from our customers both in store and online, we were able to raise £795.77!
The team worked in relay fashion on a treadmill, each doing their leg of the 45.7 mile journey as quickly as they could physically manage. The store itself was still open for business as usual, and it was great to see customers donating what they could to add to the total amount of money raised for local charity St Peter & St James Hospice – although it wasn't necessarily as easy for the runners to give any expert photographic advice when asked!
You can read more about this event and see some of the photos at blog.parkcameras.com.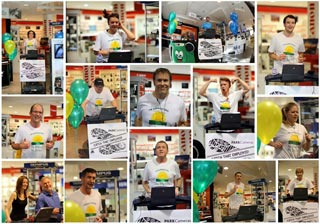 Christmas Jumper Day!

The Christmas Jumper is back!! Visit Park Cameras in store on Friday 18th December where you'll find our team will be full of Christmas cheer, as we'll be dressed up ready for Christmas!! For the privilege of wearing something a little different for the day, Park Cameras staff will be making donations that will go straight to St. Peter & St. James Hospice. Visit us on the day and you'll not only benefit from our expert advert and low prices, we also hope to spread some festive cheer in the lead up to Christmas! Of course, we'll welcome all donations on the day.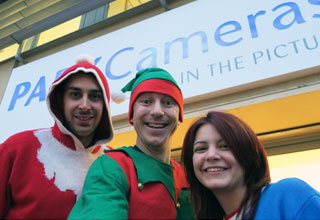 Canon Sensor Cleaning.

As part of the Park Cameras Imaging Festivals held at our stores in Central London and Burgess Hill on the 11th and 18th June 2016, we were able to offer Canon customers the chance to get their sensor cleaned for free by technical experts from Canon UK.
As part of this, we were accepting donations to go towards local charity St. Peter and St. James Hospice. Over 90 customers had their sensors cleaned across both events and we raised £197.14 which is now with St. Peter and St. James Hospice. Many thanks to all those who donated.

---
St. Peter and St. James Hospice are a registered charity with the aim to provide specialist care, love and support for those living with progressive, life limiting illnesses from East and West Sussex. They endeavour to meet the needs of each patient, their family and friends. They aim to encourage and enable all patients to live their lives to their full potential despite their illnesses. Registered Charity Number: 1056114. Learn more at www.stpeter-stjames.org.uk.